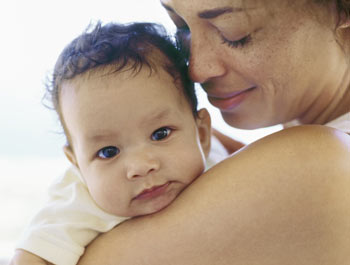 ©Thinkstock.com/George Doyle
The NIH HEAL (Helping to End Addiction Long-termSM) Initiative, which was launched last April, will support a wide range of studies aimed at improving prevention and treatment strategies for opioid use disorder and pain, including efforts to enhance treatments for infants born with Neonatal Abstinence Syndrome (NAS)/Neonatal Opioid Withdrawal Syndrome (NOWS). Specifically, HEAL funds will help support an ambitious longitudinal study—The HEALthy Brain and Child Development (HBCD) Study--co-funded by NIDA and several other NIH institutes and offices, to better understand the impact of early exposure to opioids, other substances, and social stressors on brain development in children.
The HBCD study will follow a large population of children from the prenatal period to age 10 and utilize some of the same assessment methods and imaging technologies used in the 10-year Adolescent Brain Cognitive Behavior (ABCD) study. HBCD is expected to enroll women during their second trimester of pregnancy or after birth of their baby. The study will gather data on potentially important factors about their environment, including drug and alcohol use, and follow them and their children over the subsequent decade.
The potential fruits of a longitudinal cohort study of this magnitude will include much new knowledge about the effects of opioids and other substance exposures during fetal development. It will also yield a better understanding of the effects of genes that are driving brain development. The study additionally will look at many other exposures, including social interactions, environmental toxins, nutrition, and physical activity. Medicine has thus far lacked detailed baseline standards of normative brain development in childhood, and HBCD will help produce such standards. The information gained from the study will create an invaluable reference for pediatricians, pediatric neurologists, and psychiatrists.
The ABCD study recently accomplished its baseline recruitment of close to 12,000 9- and 10-year-olds, and already the data gathered from the initial neuroimaging is yielding interesting findings, such as associations between neurodevelopment and screen time. Likewise, the HBCD study will gather a rich data set that will be freely available to the wider research community to answer a wide range of research questions. For example, researchers can use the data to investigate how the human brain develops and characteristics that might be associated with the early manifestations of brain diseases, as well as those underlying resilience to adverse environments. As the data are being collected, they will be released so that discoveries can start well before the completion of these 10-year prospective studies.
As with ABCD, the HBCD study will have multiple research sites across the country to ensure the study population is representative of the larger population, including all ethnic groups and demographics and even including women who use opioids. Exposure to many substances in the womb or through breastmilk may have significant developmental consequences, and a study of this magnitude will greatly clarify the effects of prenatal and early opioid exposure on children. It will also greatly increase our understanding of the developmental consequences of environmental stressors like neglect, abuse, economic uncertainty, and the influence of parental opioid and other drug use postnatally.
As you might imagine, there are many potential challenges to conducting regular brain imaging on young children—being able to remain still in MRI scanners is just one of them. There are also special legal and ethical challenges involved in recruiting and studying opioid-using mothers. In September and October of last year, NIDA in partnership with other NIH Institutes and Centers, hosted two expert panel meetings to discuss, respectively, the methodological challenges of studying neurodevelopment in children and recruitment and retention of high-risk populations in the study, including bioethical questions.
Based on input received during these expert panel meeting, it was determined that before soliciting grant proposals for the HBCD study per se, an initial planning period would be necessary. Thus, NIDA along with the National Institute on Alcohol Abuse and Alcoholism (NIAAA), the National Institute of Child Health and Human Development (NICHD), the National Institute of Environmental Health Sciences (NIEHS), the National Institute of Mental Health (NIMH), the National Institute of Neurological Disorders and Stroke (NINDS), the National Institute on Minority Health and Health Disparities (NIMHD), the Office of Research on Women's Health (ORWH), and the Office of Behavioral and Social Sciences Research (OBSSR) issued two funding opportunity announcements, one for individual research sites and one for linked, collaborative applications.
The planning grants will be awarded for a period of 18 months, during which time we expect to determine many critical facets of the experimental design. These include how to conduct neuroimaging in prenatal and early postnatal stages, how to address the legal challenges associated with recruiting opioid- (and other drug-) using participants (which vary by state), how to form partnerships with state agencies and substance use treatment programs, how to retain the mothers in the study, and other practical and ethical issues. Applications are due in the last week of March, 2019; researchers interested in applying for one of these grants can find more information on RFA-DA-19-029 and RFA-DA-19-036fromgrants.nih.gov.
It is a very exciting time for all the sciences that study child health, human development, and the roots of mental health and psychiatric and neurological illnesses, including substance misuse and addiction. We now have the tools to characterize human brain development in the transition from infancy into adulthood, a time when many of the medical conditions that afflict us later in life originate. The data from the HBCD study will ultimately lead to scientific solutions to addiction, pointing the way to new prevention and treatment interventions and thereby reducing the impact of opioid and other substance use disorders on American families.
Here I highlight important work being done at NIDA and other news related to the science of drug use and addiction.
Receive Nora's blog and NIDA newsroom updates: