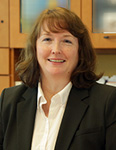 Joellen M. Austin, MPAff, MSM
Deputy Director for Management, NIDA Executive Officer
Joellen M. Austin is the Deputy Director for Management and Executive Officer for the National Institute on Drug Abuse, National Institutes of Health, U.S. Department of Health and Human Services. As Executive Officer, she is the principal advisor to the Director on all management issues affecting NIDA. She oversees the Institute's human resource management, financial management, information technology management, administrative services, ethics, contracting, and management analysis activities.
Prior to joining NIDA, Ms. Austin served as the Executive Officer for the National Institute of Environmental Health Sciences from 2011-2015, and as the Executive Officer for the National Institute of Neurological Disorders and Stroke (NINDS) from 2004-2011. Ms. Austin's early career was spent in the NIH Office of Policy for Extramural Research Administration and as Chief Grants Management Officer for NINDS and the National Center for Research Resources.
Ms. Austin received a Master of Science in Management degree through the Sloan Fellows Program at the Stanford University Graduate School of Business in 2003. In addition, she holds a Master of Public Affairs degree from the Lyndon B. Johnson School of Public Affairs at the University of Texas at Austin, and a Bachelor of Arts degree in Economics and Government from Skidmore College in Saratoga Springs, New York.