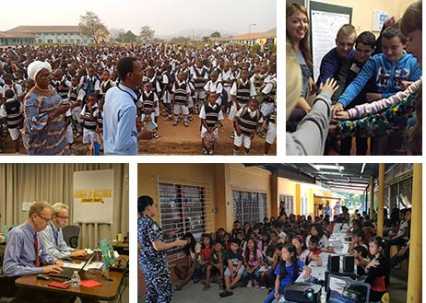 National Drug and Alcohol Facts Week around the world: (clockwise from top left) events in Nigeria, Ukraine, Philippines, and Chat Day at NIDA headquarters.
Drug abuse researchers, educators, community organizers, and health care providers in the United States and 20 other nations organized more than 1,900 events during National Drug and Alcohol Facts Week® (NDAFW) in January 2019. In Nigeria, the Food and Genes Initiative and the National Institutes of Health held events in six states with the aim of reaching 40,000 teenagers in secondary schools. In Chernihiv, Ukraine, former NIDA Humphrey fellow Valeriy Ryabukha and the Prevention Center "Choice" conducted sessions for teachers, parents, and students, such as the eighth graders (pictured above) working together to list what they know about drugs. In Oriental Mindoro, Philippines, students from Paclasan Elementary School were among those who took part in NDAFW events coordinated by the Roxas Bureau of Jail Management and Penology. During Chat Day, experts—including NIDA International Program Director Steven W. Gust, Ph.D.—answered nearly 2,000 questions from high school students.
NIDA materials and step-by-step guidelines are available to help international drug abuse professionals plan, promote, and host events during the 10th NDAFW, March 30–April 5, 2020. NIDA and the National Institute on Alcohol Abuse and Alcoholism (NIAAA) cosponsor the health information program that encourages locally planned and hosted school and community events to "Shatter the Myths" and instead provide teens with scientific facts about drugs and alcohol. International schools are also invited to participate in Chat Day on April 1, 2020, where students in registered high schools may submit online questions about substance abuse to National Institutes of Health experts. NDAFW events are recognized on the NIDA website. International organizers who want to plan NDAFW events for 2020 should register in late August to obtain materials in time for the event. For more information, see the NDAFW online guide.