Image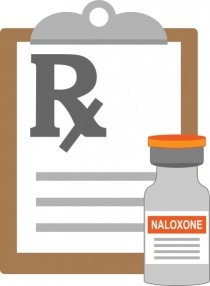 Image by NIDA
The practice of co-prescribing the opioid overdose reversal drug naloxone to Medicare Part D patients who take opioids for chronic pain increased between 2016 and 2017, though such co-prescriptions were provided to only a small minority of patients who might benefit, according to research led by scientists at the National Institutes of Health (NIH), the Centers for Disease Control and Prevention (CDC), and the Office of the Assistant Secretary for Health, all within the U.S. Department of Health and Human Services (HHS). The study found that overall national rates for naloxone co-prescription along with any opioid among Medicare Part D patients increased from 1.5 per 1000 patients receiving opioid prescriptions in 2016 to 4.6 per 1000 in 2017.
In 2016, CDC released a guideline advising clinicians to consider co-prescribing naloxone to patients at increased overdose risk, such as those taking higher doses of opioids or those who also have prescriptions for benzodiazepines to treat anxiety. Consistent with these recommendations, the highest rates of co-prescribing were among patients receiving opioids at doses of more than 90 morphine milligram equivalents per day and benzodiazepines for more than 300 days. In addition, two states that mandated naloxone co-prescribing (Vermont and Virginia) have the highest rates of all U.S. states for co-prescribing.
The study authors called for educating clinicians, pharmacists, and patients about when naloxone should be co-prescribed and for proactive approaches such as implementing prompts in electronic health records for high-risk patients.
For a copy of the paper, titled "Naloxone Co-Prescribing to Patients Receiving Prescription Opioids in the Medicare Part D Program, United States, 2016-2017," and published in JAMA, go to https://jamanetwork.com/journals/jama/fullarticle/2740706. The study was co-authored by NIDA Deputy Director Dr. Wilson Compton, CDC Researcher Dr. Christopher Jones, HHS Assistant Secretary for Health Dr. Brett P. Giroir, and HHS Researcher Dr. Meena Vythilingham.
For more information about naloxone and treating opioid overdose, go to our: Naloxone DrugFacts.
NIDA Press Office
301-443-6245
media@nida.nih.gov
About the National Institute on Drug Abuse (NIDA): NIDA is a component of the National Institutes of Health, U.S. Department of Health and Human Services. NIDA supports most of the world's research on the health aspects of drug use and addiction. The Institute carries out a large variety of programs to inform policy, improve practice, and advance addiction science. For more information about NIDA and its programs, visit www.nida.nih.gov.
About the National Institutes of Health (NIH): NIH, the nation's medical research agency, includes 27 Institutes and Centers and is a component of the U.S. Department of Health and Human Services. NIH is the primary federal agency conducting and supporting basic, clinical, and translational medical research, and is investigating the causes, treatments, and cures for both common and rare diseases. For more information about NIH and its programs, visit www.nih.gov.
NIH…Turning Discovery Into Health®