There are currently no FDA-approved medications to treat stimulant use disorders, including the use of cocaine. NIH-funded scientists have now identified a compound that shows promise in reducing self-administration of cocaine in mice.
Image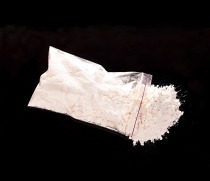 The scientific team looked at a molecule known as PTDRP (receptor-type tyrosine-protein phosphatase delta) which is an enzyme important for neuronal signaling that is encoded by the PTPRD gene in humans. Genetic studies have shown that the PTPRD gene is associated with addiction, and that mutations that reduce the amount of PTPRD in the brain are associated with reduced addiction vulnerability. This led the researchers to hypothesize that reducing activity of PTPRD could reduce cocaine reward.
In this research, investigators explored PTDRP's linkage to behaviors associated with addiction to cocaine. Researchers identified the first reported small molecule to target PTPRD (7-butoxy illudalic acid analog, or 7-BIA). 7-BIA reduces PTPRD activity, and the study revealed that when given to mice conditioned for cocaine self-administration, it reduced their desire to continually seek the drug.
These results strengthen support of PTPRD as a target for new addiction therapeutic agents, with 7-BIA as a lead compound for further research.
The research was conducted by investigators at the Intramural Research Program of the National Institute on Drug Abuse and the National Institute on Alcohol Abuse and Alcoholism, as well as the University of New Mexico and Johns Hopkins University.
Study: