Image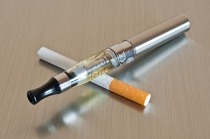 Smoking increases the risk of many health problems and can take years off a person's life, but the process of quitting can be daunting, and relapse is common. Research conducted by the National Institute on Drug Abuse (NIDA) has shown that among former smokers, use of electronic nicotine delivery systems (ENDS), including e-cigarettes and other e-products, is associated with increased chance of cigarette smoking relapse. The results provide evidence to inform public health officials setting guidelines for treating former smokers.
In a study published in JAMA Network Open, investigators revealed that the use of ENDS is associated with increased chance of cigarette smoking relapse in both recent (one year or less) and long-term former smokers (more than one year who reported no tobacco product use at the time they were selected for inclusion in this study). While recent former smokers were more likely to relapse, detailed analysis of the data showed that the association with ENDS use (post selection) in this group is less than among long-term former smokers (1.63 times versus 3.79 times greater chance of relapse). The study confirms prior research suggesting certain factors, such as more intense withdrawal symptoms and less developed coping skills, account for the greater risk of relapse overall among those who had recently stopped smoking.
The researchers used data from the Population Assessment of Tobacco and Health (PATH) Study, a nationally representative longitudinal study of tobacco use and health in the United States. The current work analyzed data across 2013 to 2018 from 2,273 former smokers age 18 years or older.
By showing that use of ENDS is associated with risk of cigarette smoking relapse, the authors recommend that clinicians treating former smokers should consider discouraging ENDS use. The authors highlight the importance of focusing relapse-prevention efforts in the first year following smoking cessation.
The study team was led by Dr. Colm Everard, researcher with the PATH Study, and NIDA Deputy Director, Dr. Wilson M. Compton. The PATH Study is supported by NIDA and the U.S. Food and Drug Administration.
Study: