Image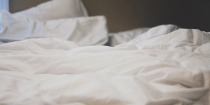 Healthy sleep is an important aspect of successful treatment for opioid use disorder (OUD). Opioids can disrupt sleep, and OUD patients have shown problems with sleep quality. Scientists at NIDA's Intramural Research Program (IRP) wanted to learn more about how illicit opioid use affects sleep in OUD patients treated with opioid agonist medications. They were also interested in understanding if changing clinic appointment hours would affect their sleep.
For 16 weeks, OUD patients being treated at the IRP on an outpatient basis with methadone or buprenorphine were assigned to attend the clinic in either the early morning (7-9 a.m.) or the early afternoon (12-1 p.m.) for four weeks each. They attended the clinic during normal operating hours (7-11 a.m.) for the remainder of the study. They were also asked to answer questions about their previous night's sleep on their smartphone every morning and to wear a device on their wrist, similar to a common electronic fitness watch, which measured their sleep by their body movements during the night. Possible illicit drug use was assessed by urinalysis.
The investigators found that on days when participants used illicit opioids and/or cocaine, they slept less, went to bed later, and woke up later than on non-using days. In addition, participants slept less and woke earlier when assigned to the early clinic hours. This study extends findings from inpatient studies regarding the sleep-disrupting effects of illicit opioid use into the outpatient setting. It also suggests that to maximize treatment outcomes, care providers should consider the effects of clinic attendance requirements on patients' sleep.
Study:
Jeremiah W. Bertz, David H. Epstein, David Reamer, William J. Kowalczyk, Karran A. Phillips, Ashley P. Kennedy, Michelle L. Jobes, Greg Ward, Barbara A. Plitnick, Mariana G. Figueiro, Mark S. Rea, Kenzie L. Preston. Sleep reductions associated with illicit opioid use and clinic-hour changes during opioid agonist treatment for opioid dependence: Measurement by electronic diary and actigraphy. Journal of Substance Abuse Treatment.