Image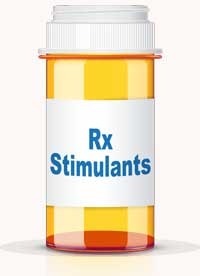 Scientists at the U.S. Department of Health and Human Services have completed the first comprehensive analysis of the prevalence of prescription stimulant use, misuse, use disorders, and motivations for misuse in the U.S. adult population. Looking at annual averages, approximately 6.6% (or 16 million) of U.S. adults used prescription stimulants in the preceding year; 4.5% (or 11 million) used prescription stimulants appropriately (without misuse); 2.1% (or 5 million) misused prescription stimulants at least once; and 0.2% (or 0.4 million) had prescription stimulant use disorders. The article analyzed data from the 2015 and 2016 National Surveys on Drug Use and Health conducted by the Substance Abuse and Mental Health Administration (SAMHSA).
The authors found that prescription stimulant use without misuse, misuse without use disorders, and use disorders were all higher among adults with major depressive episodes, suicidal ideation, and substance use problems. More than half (56.3%) cited cognitive enhancement as the reason for misusing prescription stimulants. Although purportedly used to increase alertness and concentration, research has shown that cognitive improvement from prescription stimulants is minimal and often inconsistent. The scientists point out that actions should be taken to expand safe, evidence-based treatment for Attention Deficit Hyperactivity Disorder and to decrease prescribing that may leave unused stimulants available for potential misuse. Clinicians can also screen for, and identify adults with, an increased risk for prescription stimulant misuse and pay attention to their motivations for misuse.
For a copy of the abstract, go to "Prevalence and Correlates of Prescription Stimulant Use, Misuse, Use Disorders, and Motivations for Misuse Among Adults in the United States," published in the American Journal of Psychiatry. It was authored by scientists from the National Institute on Drug Abuse, and SAMHSA.  
For more information about stimulants and prescription drugs, go to Drug Facts: Prescription Stimulants and Research Report: Misuse of Prescription Drugs.
For more information, contact the NIDA press office at media@nida.nih.gov or 301-443-6245. Follow NIDA on Twitter and Facebook.
NIDA Press Office
301-443-6245
media@nida.nih.gov
About the National Institute on Drug Abuse (NIDA): NIDA is a component of the National Institutes of Health, U.S. Department of Health and Human Services. NIDA supports most of the world's research on the health aspects of drug use and addiction. The Institute carries out a large variety of programs to inform policy, improve practice, and advance addiction science. For more information about NIDA and its programs, visit www.nida.nih.gov.
About the National Institutes of Health (NIH): NIH, the nation's medical research agency, includes 27 Institutes and Centers and is a component of the U.S. Department of Health and Human Services. NIH is the primary federal agency conducting and supporting basic, clinical, and translational medical research, and is investigating the causes, treatments, and cures for both common and rare diseases. For more information about NIH and its programs, visit www.nih.gov.
NIH…Turning Discovery Into Health®