Contact
Will Aklin
Director, Behavioral Therapy Development Program
NIDA
Additional Information
Workshop Dates and Times:
Image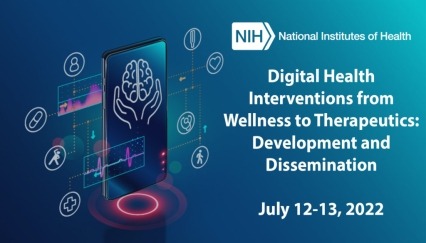 Tuesday, July 12, 2022 - 12:00pm ‒ 5:30pm ET
Wednesday, July 13, 2022 - 1:00pm ‒ 4:35pm ET
This workshop is sponsored by:
National Institute on Drug Abuse (NIDA)
National Cancer Institute (NCI)
National Institute on Aging (NIA)
National Institute on Alcohol Abuse and Alcoholism (NIAAA)
National Institute on Mental Health (NIMH)
Office of Behavioral and Social Sciences Research (OBSSR)
Overview
The goal of this workshop is to explore the issues around the design, development, and dissemination of digital health interventions. Digital interventions, accessed via mobile devices or personal computers, have been a growing part of the healthcare landscape over the last decade. The Covid pandemic has served to underscore the value of remotely delivered interventions. While there are thousands of interventions currently available to the public, many of them have never been tested for efficacy. However, the number of validated interventions is growing, with some now authorized by the FDA and others being utilized by health organizations following rigorous testing. These technologies cover a broad range of therapeutic areas, including mental health, metabolic disease, substance use, and more. Their potential to promote public health and wellbeing is only beginning to be tapped. As digital health interventions become more ubiquitous and the industry continues to see tremendous growth, academic investigators have a significant opportunity available to them to create engaging, effective, and ultimately the wide adoption of new digital health interventions. This workshop seeks to elucidate the pathways, requirements, and capabilities needed to develop and sustain effective digital health interventions.