Highlights
Image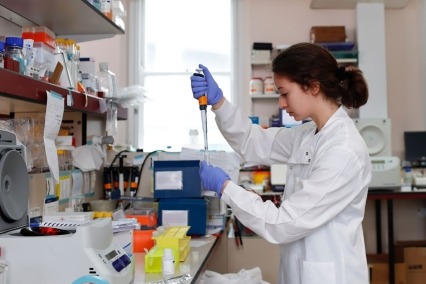 Psychedelic and dissociative drugs can temporarily alter a person's mood, thoughts, and perceptions. Among other health effects and safety concerns, people who use these substances report feeling strong emotions ranging from bliss to fear and experiencing vast changes in how they perceive reality.
In recent years, there has been growing research interest in the potential of psychedelic and dissociative drugs to treat medical conditions, including mental health disorders. An increasing number of people also report taking these drugs outside of medical settings for recreation, to improve well-being, or for spiritual or self-exploration.
NIDA supports and conducts research to better understand the health effects of psychedelic and dissociative drugs and to learn whether some of these drugs may help treat substance use disorders in medical settings.
Latest from NIDA
| NIH-supported study also found past-month vaping levels rebound after early pandemic drop.
Find More Resources on Psychedelic and Dissociative Drugs
Nichols DE. Psychedelics. Pharmacol Rev 2016;68:264–355.doi:10.1124/pr.115.011478
Johnson MW, Hendricks PS, Barrett FS, Griffiths RR. Classic psychedelics: An integrative review of epidemiology, therapeutics, mystical experience, and brain network function. Pharmacol Ther. 2019;197:83-102. doi:10.1016/j.pharmthera.2018.11.010
Garcia-Romeu A, Kersgaard B, Addy PH. Clinical applications of hallucinogens: A review. Exp Clin Psychopharmacol. 2016;24 (4):229-268. doi:10.1037/pha0000084
Bender D, Hellerstein DJ. Assessing the risk-benefit profile of classical psychedelics: a clinical review of second-wave psychedelic research. Psychopharmacology (Berl). 2022;239(6):1907-1932. doi:10.1007/s00213-021-06049-6
Ivan Ezquerra-Romano I, Lawn W, Krupitsky E, Morgan CJA. Ketamine for the treatment of addiction: Evidence and potential mechanisms. Neuropharmacology. 2018;142:72-82. doi:10.1016/j.neuropharm.2018.01.017
Lodge D, Mercier MS. Ketamine and phencyclidine: the good, the bad and the unexpected. Br J Pharmacol. 2015;172(17):4254-4276. doi:10.1111/bph.13222
Dunlap LE, Andrews AM, Olson DE. Dark Classics in Chemical Neuroscience: 3,4-Methylenedioxymethamphetamine. ACS Chem Neurosci. 2018;9(10):2408-2427. doi:10.1021/acschemneuro.8b00155
Wasko MJ, Witt-Enderby PA, Surratt CK. DARK Classics in Chemical Neuroscience: Ibogaine. ACS Chem Neurosci. 2018;9(10):2475-2483. doi:10.1021/acschemneuro.8b00294
Johnson MW, MacLean KA, Reissig CJ, Prisinzano TE, Griffiths RR. Human psychopharmacology and dose-effects of salvinorin A, a kappa opioid agonist hallucinogen present in the plant Salvia divinorum. Drug Alcohol Depend. 2011;115(1-2):150-155. doi:10.1016/j.drugalcdep.2010.11.005
Vollenweider FX, Smallridge JW. Classic Psychedelic Drugs: Update on Biological Mechanisms. Pharmacopsychiatry. 2022;55(3):121-138. doi:10.1055/a-1721-2914
Studerus E, Gamma A, Kometer M, Vollenweider FX. Prediction of psilocybin response in healthy volunteers. PLoS One. 2012;7(2):e30800. doi:10.1371/journal.pone.0030800
Oliver CF, Palamar JJ, Salomone A, et al. Synthetic cathinone adulteration of illegal drugs. Psychopharmacology (Berl). 2019;236(3):869-879. doi:10.1007/s00213-018-5066-6
Jansen KL. A review of the nonmedical use of ketamine: use, users and consequences. J Psychoactive Drugs. 2000;32(4):419-433. doi:10.1080/02791072.2000.10400244
Breeksema JJ, Kuin BW, Kamphuis J, van den Brink W, Vermetten E, Schoevers RA. Adverse events in clinical treatments with serotonergic psychedelics and MDMA: A mixed-methods systematic review. J Psychopharmacol. 2022;36(10):1100-1117. doi:10.1177/02698811221116926
Palamar JJ, Salomone A, Barratt MJ. Drug checking to detect fentanyl and new psychoactive substances. Curr Opin Psychiatry. 2020;33(4):301-305. doi:10.1097/YCO.0000000000000607
Schlag AK, Aday J, Salam I, Neill JC, Nutt DJ. Adverse effects of psychedelics: From anecdotes and misinformation to systematic science [published online ahead of print, 2022 Feb 2]. J Psychopharmacol. 2022;2698811211069100. doi:10.1177/02698811211069100
Calvey T, Howells FM. An introduction to psychedelic neuroscience. Prog Brain Res. 2018;242:1-23. doi:10.1016/bs.pbr.2018.09.013
Lee HM, Roth BL. Hallucinogen actions on human brain revealed. Proc Natl Acad Sci U S A. 2012;109(6):1820-1821. doi:10.1073/pnas.1121358109
Zhang R, Volkow ND. Brain default-mode network dysfunction in addiction. Neuroimage. 2019;200:313-331. doi:10.1016/j.neuroimage.2019.06.036
Jansen KL. A review of the nonmedical use of ketamine: use, users and consequences. J Psychoactive Drugs. 2000;32(4):419-433. doi:10.1080/02791072.2000.10400244
Hernández-Alvarado RB, Madariaga-Mazón A, Ortega A, Martinez-Mayorga K. DARK Classics in Chemical Neuroscience: Salvinorin A [published online ahead of print, 2020 Nov 9]. ACS Chem Neurosci. 2020;10.1021/acschemneuro.0c00608. doi:10.1021/acschemneuro.0c00608
Kuypers KP, Ng L, Erritzoe D, et al. Microdosing psychedelics: More questions than answers? An overview and suggestions for future research. J Psychopharmacol. 2019;33(9):1039-1057. doi:10.1177/0269881119857204
Van Court RC, Wiseman MS, Meyer KW, et al. Diversity, biology, and history of psilocybin-containing fungi: Suggestions for research and technological development. Fungal Biol. 2022;126(4):308-319. doi:10.1016/j.funbio.2022.01.003
Nichols DE. Hallucinogens. Pharmacol Ther. 2004;101(2):131-181. doi:10.1016/j.pharmthera.2003.11.002
Castro Santos H, Gama Marques J. What is the clinical evidence on psilocybin for the treatment of psychiatric disorders? A systematic review. Porto Biomed J. 2021;6(1):e128. Published 2021 Feb 11. doi:10.1097/j.pbj.0000000000000128
Goldberg SB, Shechet B, Nicholas CR, et al. Post-acute psychological effects of classical serotonergic psychedelics: a systematic review and meta-analysis. Psychol Med. 2020;50(16):2655-2666. doi:10.1017/S003329172000389X
Breeksema JJ, Kuin BW, Kamphuis J, van den Brink W, Vermetten E, Schoevers RA. Adverse events in clinical treatments with serotonergic psychedelics and MDMA: A mixed-methods systematic review. J Psychopharmacol. 2022;36(10):1100-1117. doi:10.1177/02698811221116926
Morgan CJ, Curran HV; Independent Scientific Committee on Drugs. Ketamine use: a review. Addiction. 2012;107(1):27-38. doi:10.1111/j.1360-0443.2011.03576.x
van Amsterdam J, Opperhuizen A, van den Brink W. Harm potential of magic mushroom use: a review. Regul Toxicol Pharmacol. 2011;59(3):423-429. doi:10.1016/j.yrtph.2011.01.006
van Amsterdam J, Van Den Brink W. Harm related to recreational ketamine use and its relevance for the clinical use of ketamine. A systematic review and comparison study. Expert Opin Drug Saf. 2022;21(1):83-94. doi:10.1080/14740338.2021.1949454
Leonard JB, Anderson B, Klein-Schwartz W. Does getting high hurt? Characterization of cases of LSD and psilocybin-containing mushroom exposures to national poison centers between 2000 and 2016. J Psychopharmacol. 2018;32(12):1286-1294. doi:10.1177/0269881118793086
Johnson M, Richards W, Griffiths R. Human hallucinogen research: guidelines for safety. J Psychopharmacol. 2008;22(6):603-620. doi:10.1177/0269881108093587
Carbonaro TM, Bradstreet MP, Barrett FS, et al. Survey study of challenging experiences after ingesting psilocybin mushrooms: Acute and enduring positive and negative consequences. J Psychopharmacol. 2016;30(12):1268-1278. doi:10.1177/0269881116662634
Johnson MW, Griffiths RR, Hendricks PS, Henningfield JE. The abuse potential of medical psilocybin according to the 8 factors of the Controlled Substances Act. Neuropharmacology. 2018;142:143-166. doi:10.1016/j.neuropharm.2018.05.012
Nichols DE, Grob CS. Is LSD toxic?. Forensic Sci Int. 2018;284:141-145. doi:10.1016/j.forsciint.2018.01.006
Gable RS. Comparison of acute lethal toxicity of commonly abused psychoactive substances. Addiction. 2004;99(6):686-696. doi:10.1111/j.1360-0443.2004.00744.x
Gee P, Schep LJ, Jensen BP, Moore G, Barrington S. Case series: toxicity from 25B-NBOMe--a cluster of N-bomb cases - PubMed (nih.gov). Clin Toxicol (Phila). 2016;54(2):141-146. doi:10.3109/15563650.2015.1115056
Wood DM, Sedefov R, Cunningham A, Dargan PI. Prevalence of use and acute toxicity associated with the use of NBOMe drugs. Clin Toxicol (Phila). 2015;53(2):85-92. doi:10.3109/15563650.2015.1004179
Köck P, Froelich K, Walter M, Lang U, Dürsteler KM. A systematic literature review of clinical trials and therapeutic applications of ibogaine. J Subst Abuse Treat. 2022;138:108717. doi:10.1016/j.jsat.2021.108717
Bertron JL, Seto M, Lindsley CW. DARK Classics in Chemical Neuroscience: Phencyclidine (PCP). ACS Chem Neurosci. 2018;9(10):2459-2474. doi:10.1021/acschemneuro.8b0026
Malcolm B, Thomas K. Serotonin toxicity of serotonergic psychedelics [published online ahead of print, 2021 Jul 12]. Psychopharmacology (Berl). 2021;10.1007/s00213-021-05876-x. doi:10.1007/s00213-021-05876-x
Volpi-Abadie J, Kaye AM, Kaye AD. Serotonin syndrome. Ochsner J. 2013;13(4):533-540.
Müller F, Kraus E, Holze F, et al. Flashback phenomena after administration of LSD and psilocybin in controlled studies with healthy participants [published online ahead of print, 2022 Jan 25]. Psychopharmacology (Berl). 2022;10.1007/s00213-022-06066-z. doi:10.1007/s00213-022-06066-z
Halpern JH, Lerner AG, Passie T. A Review of Hallucinogen Persisting Perception Disorder (HPPD) and an Exploratory Study of Subjects Claiming Symptoms of HPPD. Curr Top Behav Neurosci. 2018;36:333-360. doi:10.1007/7854_2016_457
Martinotti G, Santacroce R, Pettorruso M, et al. Hallucinogen Persisting Perception Disorder: Etiology, Clinical Features, and Therapeutic Perspectives. Brain Sci. 2018;8(3):47. Published 2018 Mar 16. doi:10.3390/brainsci8030047
Castellani D, Pirola GM, Gubbiotti M, et al. What urologists need to know about ketamine-induced uropathy: A systematic review. Neurourol Urodyn. 2020;39(4):1049-1062. doi:10.1002/nau.24341
Fonseca DA, Ribeiro DM, Tapadas M, Cotrim MD. Ecstasy (3,4-methylenedioxymethamphetamine): Cardiovascular effects and mechanisms. Eur J Pharmacol. 2021;903:174156. doi:10.1016/j.ejphar.2021.174156
Ona G, Rocha JM, Bouso JC, Hallak JEC, Borràs T, Colomina MT, Dos Santos RG. The adverse events of ibogaine in humans: an updated systematic review of the literature (2015-2020). Psychopharmacology (Berl). 2021 Aug 18. doi: 10.1007/s00213-021-05964-y. Epub ahead of print. PMID: 34406452.
Hashimoto K. Rapid-acting antidepressant ketamine, its metabolites and other candidates: A historical overview and future perspective. Psychiatry Clin Neurosci. 2019;73(10):613-627. doi:10.1111/pcn.12902
Reiff CM, Richman EE, Nemeroff CB, et al. Psychedelics and Psychedelic-Assisted Psychotherapy. Focus (Am Psychiatr Publ). 2021;19(1):95-115. doi:10.1176/appi.focus.19104
Fink M, Simeon J, Haque W, Itil T. Prolonged adverse reactions to LSD in psychotic subjects. Arch Gen Psychiatry-. 1966;15(5):450-454. doi:10.1001/archpsyc.1966.01730170002002
Zeifman RJ, Singhal N, Breslow L, Weissman CR. On the Relationship between Classic Psychedelics and Suicidality: A Systematic Review [published correction appears in ACS Pharmacol Transl Sci. 2022 Feb 22;5(3):176]. ACS Pharmacol Transl Sci. 2021;4(2):436-451. Published 2021 Mar 11. doi:10.1021/acsptsci.1c00024
Tyler MW, Yourish HB, Ionescu DF, Haggarty SJ. Classics in Chemical Neuroscience: Ketamine. ACS Chem Neurosci. 2017;8(6):1122-1134. doi:10.1021/acschemneuro.7b00074
Javitt DC, Zukin SR. Recent advances in the phencyclidine model of schizophrenia. Am J Psychiatry. 1991;148(10):1301-1308. doi:10.1176/ajp.148.10.1301
Morgan CJ, Muetzelfeldt L, Curran HV. Consequences of chronic ketamine self-administration upon neurocognitive function and psychological wellbeing: a 1-year longitudinal study [published correction appears in Addiction. 2010 Apr;105(4):766]. Addiction. 2010;105(1):121-133. doi:10.1111/j.1360-0443.2009.02761.x
Kristiansen LV, Huerta I, Beneyto M, Meador-Woodruff JH. NMDA receptors and schizophrenia. Curr Opin Pharmacol. 2007 Feb;7(1):48-55. doi: 10.1016/j.coph.2006.08.013. Epub 2006 Nov 9. PMID: 17097347.
Gastaldon C, Raschi E, Kane JM, Barbui C, Schoretsanitis G. Post-Marketing Safety Concerns with Esketamine: A Disproportionality Analysis of Spontaneous Reports Submitted to the FDA Adverse Event Reporting System. Psychother Psychosom. 2021;90(1):41-48. doi:10.1159/000510703
van Amsterdam J, Van Den Brink W. Harm related to recreational ketamine use and its relevance for the clinical use of ketamine. A systematic review and comparison study. Expert Opin Drug Saf. 2022;21(1):83-94. doi:10.1080/14740338.2021.1949454
Ivory ST, Rotella JA, Schumann J, Greene SL. A cluster of 25B-NBOH poisonings following exposure to powder sold as lysergic acid diethylamide (LSD). Clin Toxicol (Phila). 2022;60(8):966-969. doi:10.1080/15563650.2022.2053150
D'Errico S. Commentary. Fentanyl-related death and the underreporting risk. J Forensic Leg Med. 2018;60:35-37. doi:10.1016/j.jflm.2018.09.007
Holbrook BD, Rayburn WF. Teratogenic risks from exposure to illicit drugs. Obstet Gynecol Clin North Am. 2014;41(2):229-239. doi:10.1016/j.ogc.2014.02.008
McElhatton PR, Bateman DN, Evans C, Pughe KR, Thomas SH. Congenital anomalies after prenatal ecstasy exposure. Lancet. 1999;354(9188):1441-1442. doi:10.1016/s0140-6736(99)02423-x
Singer LT, Moore DG, Min MO, et al. Motor delays in MDMA (ecstasy) exposed infants persist to 2 years. Neurotoxicol Teratol. 2016;54:22-28. doi:10.1016/j.ntt.2016.01.003
Ryu IS, Kim OH, Lee YE, Kim JS, Li ZH, Kim TW, Lim RN, Lee YJ, Cheong JH, Kim HJ, Lee YS, Steffensen SC, Lee BH, Seo JW, Jang EY. The Abuse Potential of Novel Synthetic Phencyclidine Derivative 1-(1-(4-Fluorophenyl)Cyclohexyl) Piperidine (4'-F-PCP) in Rodents. Int J Mol Sci. 2020 Jun 29;21(13):4631. doi: 10.3390/ijms21134631
American Psychiatric Association, Substance-Related and Addictive Disorders, Diagnostic and Statistical Manual of Mental Disorders, 10.1176/appi.books.9780890425787, (2022)
Johnson MW, Sewell RA, Griffiths RR. Psilocybin dose-dependently causes delayed, transient headaches in healthy volunteers. Drug Alcohol Depend. 2012;123(1-3):132-140. doi:10.1016/j.drugalcdep.2011.10.029
Fantegrossi WE, Woods JH, Winger G. Transient reinforcing effects of phenylisopropylamine and indolealkylamine hallucinogens in rhesus monkeys . Behav Pharmacol. 2004;15(2):149-157. doi:10.1097/00008877-200403000-00007
Kokane SS, Armant RJ, Bolaños-Guzmán CA, Perrotti LI. Overlap in the neural circuitry and molecular mechanisms underlying ketamine abuse and its use as an antidepressant. Behav Brain Res. 2020;384:112548. doi:10.1016/j.bbr.2020.112548
Passie T, Halpern JH, Stichtenoth DO, Emrich HM, Hintzen A. The pharmacology of lysergic acid diethylamide: a review. CNS Neurosci Ther. 2008;14(4):295-314. doi:10.1111/j.1755-5949.2008.00059.x
Domínguez-Clavé E, Soler J, Elices M, et al. Ayahuasca: Pharmacology, neuroscience and therapeutic potential. Brain Res Bull. 2016;126(Pt 1):89-101. doi:10.1016/j.brainresbull.2016.03.002
Carbonaro TM, Gatch MB. Neuropharmacology of N,N-dimethyltryptamine. Brain Res Bull. 2016;126(Pt 1):74-88. doi:10.1016/j.brainresbull.2016.04.016
Dinis-Oliveira RJ, Pereira CL, da Silva DD. Pharmacokinetic and pharmacodynamic aspects of peyote and mescaline: clinical and forensic repercussions. Curr Mol Pharmacol. 2019;12(3):184-194. doi:10.2174/1874467211666181010154139
Poulie CBM, Jensen AA, Halberstadt AL, Kristensen JL. DARK Classics in Chemical Neuroscience: NBOMes [published online ahead of print, 2019 Nov 12]. ACS Chem Neurosci. 2019;10.1021/acschemneuro.9b00528. doi:10.1021/acschemneuro.9b00528
de Wit H, Molla HM, Bershad A, Bremmer M, Lee R. Repeated low doses of LSD in healthy adults: A placebo-controlled, dose-response study [published online ahead of print, 2022 Feb 1]. Addict Biol. 2022;e13143. doi:10.1111/adb.13143
Siegel JS, Daily JE, Perry DA, Nicol GE. Psychedelic Drug Legislative Reform and Legalization in the US. JAMA Psychiatry. Published online December 07, 2022. doi:10.1001/jamapsychiatry.2022.4101