What's New at NIDA 
NIDA Staff and Diversity Scholars Take on the College on Problems of Drug Dependence Conference!
Image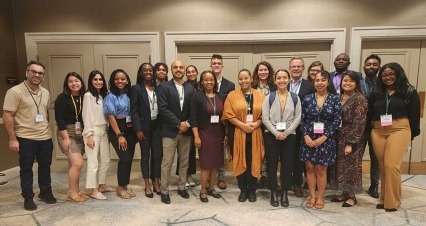 The CPDD conference serves as a forum bringing together basic scientists and clinical investigators from industry, academia, and government. Representatives of regulatory agencies, as well as scientists and professionals in diverse disciplines focused on biochemical, behavioral, and public health aspects of drug dependence attend the meeting. NIDA's ORTDD proudly sponsors travel awards to defray the costs of meeting attendance and provide encouragement and networking opportunities for junior investigators.  The above photo features some of the outstanding diversity scholars with NIDA staff.
The ORTDD had the opportunity to interview Dr. Wilson Compton, NIDA Deputy Director and ORTDD Director, on his experience and role at the CPDD conference. He attended the conference to support the NIDA training program, meet with scholars, and engage with scientists at all stages of their careers, with a particular focus on early career scientists. Dr. Compton appreciated meeting with these awardees, getting to know them personally, and hearing about the exciting, new science.
Dr. Compton noted that the poster sessions at CPDD were very well attended and provided an opportunity for scholars to share their work with the community. When asked to share any advice for those presenting at a scientific conference for the first time, Dr. Compton explained that standing by your poster is very important, even though it may feel awkward and lonely. He suggested that presenters "be prepared for a rapid explanation of the main implications of the findings, and then go back and describe the methods." Moreover, he recommended that all attendees ask questions, introduce  themselves, and even tag along with more senior scientists to network and engage in conversation.
Image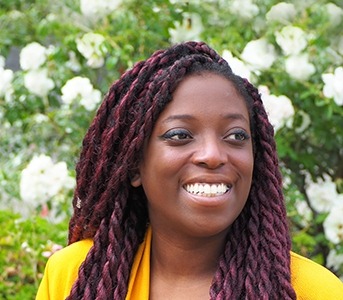 Honoring Samantha "Sammy" Theresa Mensah
It is with deep sadness that we inform the NIDA research training community of a recent tragedy – Samantha "Sammy" Theresa Mensah, a talented, bright, and influential rising star of University of California, Los Angeles (UCLA), passed away on February 22, 2023. Sammy was a 6th-year chemistry graduate student under the mentorship of Professors Paul Weiss and Anne Andrews where she studied biosensors that detect neurotransmitters and other chemical biomarkers. She received her bachelor's degree in chemistry, with a minor in nanoscience, from the University of Central Florida in 2017 and her master's degree in materials chemistry in 2019 from UCLA. Sammy was a NIDA scholar and passionate diversity activist, as well as co-founder of BlackInChem. She was a Ph.D. candidate at UCLA, and received her degree posthumously. The diploma was presented to Sammy's brother, sister and nephew at the 2023 UCLA Department of Chemistry & Biochemistry Commencement Ceremony. Sammy will be missed by many.
---
Program Updates  
Research Supplements to Promote Diversity in Health-Related Research – NEW ANNOUCEMENT
Attention mentors and scholars! As of June 29th, the notice of funding opportunity (NOFO) for the NIH Diversity Supplement Program (also known as "Research Supplements to Promote Diversity in Health-Related Research) has been reissued  as PA-23-189. This program provides funds for administrative supplements to active grant awards to enhance the diversity of the research workforce.  Be sure to apply to the current NOFO and always reach out to the program contact from the appropriate Institute or Center for more information. The NIDA Point of Contact is Dr. Angela Holmes.
New and At-Risk Investigator R01
Consider applying for the New and "At-Risk" Investigator Funding Opportunity Announcement PAR-22-181. This funding opportunity solicits R01 grant applications from "New Investigators" and "At-Risk Investigators" from diverse backgrounds, including those from groups underrepresented in the health-related sciences (see NOT-OD-20-031, Notice of NIH's Interest in Diversity). For more information, see: Diversity R01 for New and "At-Risk" Investigators | National Institute on Drug Abuse (NIDA) (nih.gov).
DEIA Prize Competition
The NIH is now accepting submissions for a new initiative that rewards effective strategies for enhancing diversity, equity, inclusion, and accessibility (DEIA) in research environments: the NIH Institutional Excellence in DEIA in Biomedical and Behavioral Research Prize Competition
The prize competition aims to recognize transformative cultures, systems, projects, and processes developed by academic institutions to promote inclusive excellence and create environments that foster and value a culture of DEIA. The prize competition will also identify practices for enhancing DEIA within faculty, postdoctoral scholars, and student bodies that can be disseminated for adoption by other institutions. 
NIH will award up to 10 prizes of $100,000 each through the competition. Up to half of the prizes will be set aside for consideration for limited-resourced institutions. NIH may also recognize additional entries as honorable mentions with nonmonetary awards. 
To participate, registration is required by Tuesday, September 12, 2023, at 5:00 p.m., Eastern Time. Entries are being accepted through Tuesday, September 26, 2023. Please visit the prize competition website for information about eligibility, participation, and submission requirements. 
STrengthening Research Opportunities for NIH Grants (STRONG): Structured Institutional Needs Assessment and Action Plan Development for Resource Limited Institutions (RLIs) (UC2 - Clinical Trial Not Allowed)
The purpose of the STRONG-RLI Notice of Funding Opportunity (NOFO) is to invite applications to conduct biomedical research capacity needs assessments by Resource-Limited Institutions (RLIs) and then to use the results of the assessments to create action plans for meeting identified needs. The program's goal is to increase competitiveness in the biomedical research enterprise and foster institutional environments conducive to research career development. Learn more about this new opportunity.
A New Research Opportunity will support Tribes and Native American Serving Organizations (T/NASOs)
Interested in conducting locally prioritized research to address overdose, substance use, or pain, and related factors such as mental health and wellness?
Part of the NIH HEAL Initiative®, the Native Collective Research Effort to Enhance Wellness (N CREW) Program is a highly collaborative partnership between NIH, T/NASOs, and Ally organizations established to directly respond to the drug overdose and addiction public health emergency.
Two Research Opportunity Announcements (ROAs) are now accepting applications: ROA OTA-23-007 and ROA OTA-23-008. The application deadline is 11/1/23. Learn more.
---
NIDA Diversity Scholars Network Coach Spotlight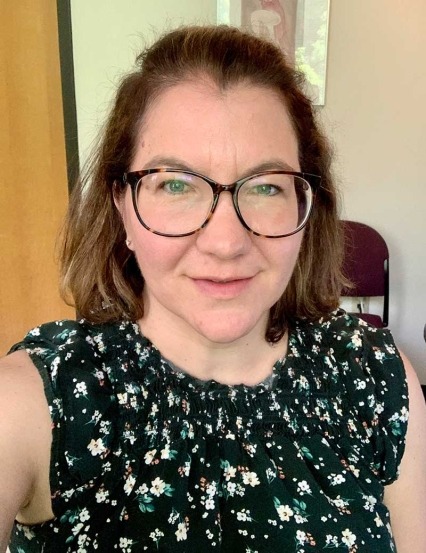 The NIDA ORTDD is excited to spotlight Dr. Tara Chaplin, Associate Professor at George Mason University and NIDA Diversity Scholars Network Coach. The NIDA Diversity Scholars Network Program is a program aimed at enhancing the funding outcome of early-stage investigators. The program consists of three separate meetings that include professional development talks, networking, career building strategies, review of the NIH grant application process, and a mock review study section. The NDSN coach role is a critical one, and the ORTDD is especially appreciative of their hard work and dedication over the years. Coaches work closely with scholars on the components of their draft grant applications. Coaches provide their expert advice, experience in the area of science, and mentoring to their matched NDSN scholar. The ORTDD is grateful for the opportunity to interview Dr. Chaplin on her experience as a NDSN coach.   
Please share a little about yourself, your educational background, research focus area, and any grants you currently have.
I am an Associate Professor of Psychology at George Mason University. As far as my training, I received a Ph.D. in Child-Clinical psychology in 2003 from Penn State University and completed post-doctoral training at the University of Pennsylvania and then from Yale University School of Medicine. From 2007-2014, I served as an Associate Research Scientist and Assistant Professor in Psychiatry at Yale University School of Medicine before joining the Clinical Psychology Faculty at George Mason University in 2013.

My research is on the role of emotional arousal and sex differences in the development of substance use and psychopathology during adolescence. I am particularly interested in the role of the family context and parenting in shaping adolescents' emotional development and their development of substance use. My research also focuses on developing family-focused interventions to improve emotional functioning and prevent substance use in youth, including a mindful parenting intervention for highly stressed parents of adolescents. My research incorporates multiple bio-behavioral methods, including self-reports of emotional experience, observational measures, cardiovascular measures such as heart rate variability, neuroendocrine measures such as cortisol, and fMRI. I have two current NIDA-funded R01 grants. One is a study examining the neural mechanisms of parenting impacts on adolescent development of substance use. The other is a study testing efficacy and neural mechanisms of my mindful parenting intervention for highly stressed parents in reducing parent stress, improving parenting, and preventing adolescent substance use and psychological symptoms.
Please share about what drew you to the STEM field and particularly substance use/addiction research.
I have always been fascinated by research understanding adolescents' emotional development and family influences on emotional development. In about 2002-2006, there was a lot of really interesting work coming out on neural and physiological measures of emotion, which inspired me to apply for a K01 Award to develop expertise in bio-psycho-social measurement of adolescent emotion. At the same time, I was working as a post-doctoral researcher in the Yale Stress Center with Dr. Rajita Sinha, whose work is on stress and addiction in adults. I thought- it would be interesting to apply some of her theories of sex differences, stress/emotion and addiction to adolescents and this led me to develop my current program of research focused on emotions and adolescent substance use.
You've been an NDSN coach for a couple of years now! Thank you so much for your contribution to this program. What has your experience been as a coach and what are your thoughts on the NDSN program as a whole?
I have really enjoyed serving as a coach to NDSN scholars. They have been really fantastic junior scientists with great promise, and I am happy to support them in their development. The mission of NDSN to increase the diversity of scientists in the field of addiction is a great one. I believe that by increasing diversity of scientists, it greatly improves the quality and reach of science.
Have you faced any adversity during your journey to becoming an independent NIDA investigator and were there any steps you took to push through?
I have faced some challenges in my journey along the way (while I acknowledge that I also hold several privileges that have made some things easier). In terms of challenges, I have definitely received my fair share of manuscript and grant rejections or challenging reviews. And sometimes I have a lack of confidence in my research ideas. To push through this, I often bounce my ideas off of colleagues or mentors and they give me confidence to go for it, which helps a lot. I have been very lucky to have amazing mentors and colleagues who are so supportive. Also, it can be challenging to work as a scientist and also be a mother. For this, I have to credit my husband and his support. He is always willing to step up on childcare duties if I need to work long hours on a grant submission- I could not do this without him. 
Would you be willing to share any advice you would give to scholars striving to get their first grant?
Yes! I think, first of all, remember that you will need to submit and resubmit and resubmit, possibly several times. And that is okay! It absolutely does not mean you are a failure, this is just the name of the game. Persistence is key.

Also- be sure to be open to reading reviews and really responding to them. While grant reviews may seem to sting at first, there is (usually) really good insight in there and if you are open to it, your revised grant really can improve a lot.
Many thanks to all of our 2023 NDSN Coaches, listed below.
2023 NDSN Coaches

Andrew Huhn, PhD, MBA
Associate Professor of Psychiatry and Behavioral Sciences 
Johns Hopkins Medicine

Andy Tan, PhD, MPH, MBA, MBBS
Associate Professor of Communication
Director, Health Communication & Equity Lab
University of Pennsylvania 

Brant Hasler, PhD
Associate Professor of Psychiatry, Psychology and Clinical and Translational Science
University of Pittsburgh

Carrie Oser, PhD
Endowed Professor, Sociology Department
University of Kentucky

Jennifer Edelman, PhD
Associate Professor
University of West Georgia

Jose Moron-Concepcion, PhD
Chief of the Division of Basic Research, Henry E. Mallinckrodt Professor of Anesthesiology
Washington University School of Medicine in St. Louis 

Mary Torregrosa, PhD
Associate Professor of Psychiatry
University of Pittsburgh

Maureen Stewart, PhD
Scientist and Lecturer
Institute for Behavioral Health, Heller School for Social Policy and Management
Brandeis

Oluwaseu Falade-Neulia, M.B.B.S., M.P.H.
Associate Professor of Medicine
Johns Hopkins Medicine

Omar El-Shahawy, MD, MPH, PhD
Assistant Professor, Department of Population Health
New York University Langone Health  

Rebecca Evans-Polce, PhD
Research Assistant Professor, Department of Health Behavior and Biological Sciences  
University of Michigan

Shakira Sugila, ScD
Professor, Department of Epidemiology
Emory University

Tara Chaplin, PhD
Associate Professor of Psychology
George Mason University  
Did You Know?  
You are invited to join the NIDA Division of Neuroscience and Behavior's Diversity & Inclusion Group (DIG) on August 25, 2023 from 3:00-4:30 ET for the next seminar in their series, Addressing Health Disparities with Neuroscience.  The seminar, Indigenous Knowledge and Psychedelic Neuroscience, will feature speakers Dr. Bia Labate, an anthropologist and advocate for the inclusion of Indigenous perspectives in psychedelics research and policy;  and Dr. Andrea Gomez, a psychedelics researcher and a Chicano and Laguna Pueblo Native who works to bring Indigenous expertise to neuroscience.  Please register if you are interested in attending.  Hope to see you there! Please contact DNB DIG for more information. Individuals with disabilities who need reasonable accommodation to participate in this seminar should contact DNB DIG at least five days in advance. (POSTPONED)
Interested in Attending a Scientific Conference? Apply for a Travel Award to SfN by August 12, 2023!
The National Institute on Drug Abuse (NIDA), Office of Diversity and Health Disparities (ODHD) is accepting applications for the NIDA Diversity Scholars Travel Award Program to help defray the costs of attending national scientific conferences. Please see the below application for more information and consider sharing with anyone who may be interested. Scientists from underrepresented backgrounds are encouraged to apply, though individuals from all backgrounds are eligible to participate.
Apply for a travel award to The Annual Society for Neuroscience (SfN) Meeting, to be held on November 11-15, 2023, in Washington, DC. Travel award Applications due August 12, 2023.
ScHARe Platform
ScHARe is a cloud-based platform for population science including social determinants of health (SDOH), and data sets designed to accelerate research in health disparities, health and healthcare delivery outcomes, and artificial intelligence (AI) bias mitigation strategies. Learn more about this platform and register.