Additional Information
Profiles of Excellence: Focus on Diversity Webinar Series
Image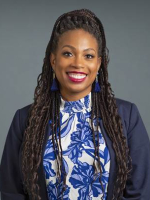 "Cultural Consideration for Addiction Research:  Looking to the Past to Inform the Future"
Ayana Jordan, MD, PhD, will discuss socio-political factors that contribute to the existence and propagation of drug overdose deaths among racial and ethnic minoritized people with opioid and other substance use disorders (SUDs). She will highlight risk factors that have contributed to worsening addiction disparities among racial and ethnic minoritized populations with SUDs during the COVID-19 pandemic. Lastly, she will share best practices for non-traditional research modalities which may be more culturally acceptable to improve addiction outcomes. Dr. Jordan is a Barbara Wilson Associate Professor of Psychiatry, Department of Psychiatry at NYU Grossman School of Medicine; Associate Professor, Department of Population Health at NYU Grossman School of Medicine; Pillar Co-Lead of Community Engagement, NYU Langone Health's Institute for Excellence in Health Equity.
For more information, please contact Aria Crump at aria.crump@nih.gov. Individuals with disabilities who need a reasonable accommodation to participate in this event should contact Julie Huffman at julie.huffman@nih.gov (301-443-9798) by March 1.