Introduction
Image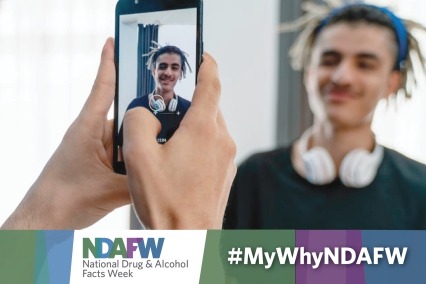 National Drug and Alcohol Facts Week® (NDAFW) seeks to inspire a dialogue about the science of drug use and addiction among youth to improve prevention and awareness of substance misuse in communities. Participation in NDAFW can have a personal connection, and each person's motivation and story is unique.
In this activity, we encourage youth to use their authentic voice to share their why or motivation for sharing their thoughts about drug use prevention and positive mental health.
Why do these issues matter to them?
What do these topics mean to them personally and/or to their community?
Their #MyWhyNDAFW can be shared as short-form videos on social media (e.g., Instagram, TikTok, Facebook).
Event Planner Instructions 
Step One: Facilitation by Event Planners (e.g., Educators, Mentors, Coaches, and Admired Adults)
A tip sheet for students is available to help support this activity.
Offer this activity as a homework assignment for extra credit.
Use this activity as an opportunity to earn points or other rewards for clubs or organizations in out-of-school time settings
Consider organizing this activity as a contest within your group, organization, or school.
Offer a motivator that may encourage youth to think more deeply about the exercise.
Allow youth to develop the video at home or in another location where they feel most comfortable—this may increase the likelihood of participation.
Step Two: Plan, Develop, and Consider Sharing Video
Instruct youth to follow the tip sheet to support their video development.

This tip sheet includes prompts to help inspire thinking around their #MyWhyNDAFW and develop it into a brief video.

Encourage youth to explore their own thoughts and questions as a part of the creative process.

How have events in their communities shaped their views or understanding of drug use and mental health? A class, group, or small group discussion may help spark ideas and build connections.

Have a school counselor or other professional provide mental health support and resources, should they be needed.
If youth feel comfortable sharing the videos they develop on their preferred social media channel, they can do so using #MyWhyNDAFW or #NDAFW.