What is National Drug and Alcohol Facts Week®?
Image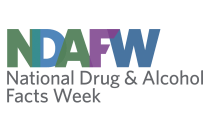 National Drug and Alcohol Facts Week®, or NDAFW, is an annual, week-long, health observance that inspires dialogue about the science of drug use and addiction among youth. It provides an opportunity to bring together scientists, students, educators, healthcare providers, and community partners to help advance the science and address youth drug and alcohol use in communities and nationwide. It was launched in 2010 by scientists at the National Institute on Drug Abuse (NIDA) to stimulate educational events in communities so teens can learn what science has taught us about drug use and addiction. The National Institute on Alcohol Abuse and Alcoholism became a partner in 2016, and alcohol has been added as a topic area for the week. NIDA and NIAAA are part of the National Institutes of Health, and work with leading organizations, media outlets, and other Government agencies to spread the word about NDAFW.
How can I host an NDAFW event?

NDAFW event organizers must be 18 years or older. Teens that are interested in hosting events must partner with an adult who meets this criterion (including your parents!).

EVENT TIP: Including teens in the planning and hosting of NDAFW events helps make them educational and fun. Teens are also particularly helpful in reaching out on social media and using technology to help promote NDAFW events.

NDAFW events have been held with a variety of organizations, including middle and high schools; local nonprofits or other community-based organizations; state or local health departments; PTAs; faith-based organizations; afterschool clubs; virtually; at home; and more!

NIDA offers a host of resources to help you plan, promote, and secure the science for your NDAFW event:

Plan Your Event with the help of our step-by-step guide. 

Additional Questions or Comments?
Please contact us at: drugfacts@nida.nih.gov

How do I learn about upcoming events in my area or around the country?

Check out events already registered on our NDAFW Map to see who is hosting an event in your area.

How do I connect with other NDAFW event holders?

Tweet about NDAFW—Be sure to use our hashtag #NDAFW.
Check out our Map page to find others in your area.
Sign up for the NDAFW Newsletter, featuring resources and ideas from event holders.

How can I use social media to promote my NDAFW event?

Tweet, blog, or update your Facebook status to help spread the word about your NDAFW event. Share information with your family and friends that will inspire dialogue about preventing youth drug and alcohol use.

If you tweet about NDAFW, be sure to use our hashtag #NDAFW.

What if my event is not being held during NDAFW?

We understand it may not be possible for some event planners to hold events during the week of NDAFW. Registered activities held any time in the same month as the week of NDAFW can be recognized as NDAFW events. We would still like to hear about your event and support you in any way possible. Make sure to register your event, have it listed on the Events Map, or promote it as an NDAFW event. We are still here to answer any questions or offer advice. Please send an email to drugfacts@nida.nih.gov with information about your event, the dates, and any questions you may have.

What if my NDAFW event is not showing up on the Events Map?

All approved events will be displayed on the Events Map within 2 weeks of submitting the registration form. If your event is not displayed within that time period, please send an email to drugfacts@nida.nih.gov.

How can I help support NDAFW but not host an event?

You can help us promote NDAFW by becoming a Partner with NIDA, by giving NDAFW a Shout Out on Social Media (tweet, blog, or update your Facebook status), and by using NDAFW Brochures and Posters to help spread the word about NDAFW.

What is the National Drug & Alcohol IQ Challenge?

During National Drug and Alcohol Facts Week® and year round, teens can test their knowledge about drugs, alcohol, and drug use by taking the interactive National Drug and Alcohol IQ Challenge quiz. 

Who are the Federal Partners for National Drug and Alcohol Facts Week®?