What's New at NIDA
Image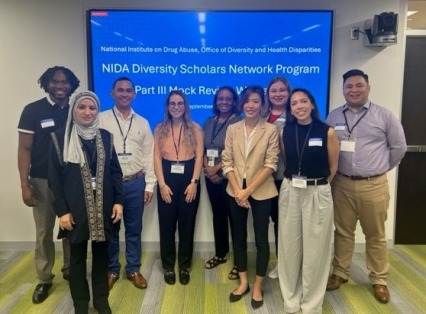 2023 NIDA Diversity Scholars Network Program Part III Meeting
The 2023 NIDA Diversity Scholars Network Program just wrapped up another successful year! Congratulations to all the 2023 scholars for completing the program. The NDSN program culminates with a mock review meeting that is highly anticipated throughout the year. This year, the Part III meeting took place on September 7-8 as a hybrid meeting in Bethesda, Maryland. The two-day meeting included the mock review, along with a debriefing and  presentations. Attendees listened to an inspirational talk by Dr. Erica Boone on Mentoring and Imposter Syndrome and another from Dr. Crump on "Resources, Resubmission, and Resilience (R3)." If you are interested in being a part of the 2024 NDSN program, consider attending the NDSN Pre-Application Webinar to learn all about the program.  Register for the webinar!  
NIDA Diversity Scholars Network Program Pre-Application Webinar
Are you an early-career investigator planning to submit a grant to NIH? Interested in collaborating and networking with other researchers? Looking to enhance your grant-writing capabilities and participate in a mock review meeting? Join the NIDA, Office of Diversity and Health Disparities on Wednesday November 8, 2023, from 1:30-2:30 PM Eastern Time, and learn about the NIDA Diversity Scholars Network Program! The NIDA Diversity Scholars Network Program is a rigorous program aimed at enhancing the funding success of early career investigators from diverse backgrounds, including investigators from underrepresented groups. The 3-part series connects scholars with NIDA Program Officers and coaches and offers workshops to demystify the NIH grant making process and support the development of grant writing skills. The program ends with a mock peer review meeting. The application for 2024 will open early November, 2023 and will be located on the NIDA's NDSN Program webpage. The deadline to apply is January 12, 2024. To learn more, register to attend the pre-application webinar.
NIDA Early Career Workshop: Navigating Career Opportunities and Challenges
Register today for NIDAs Early Career Workshop, which will take place via zoom on November 27th from 12:00 – 2:00 ET. This virtual workshop is designed to inform early career scientists on National Institutes of Health (NIH) training, career or educational grants and other funding mechanisms. Participants will be able to identify new opportunities and converse directly with National Institute on Drug Abuse (NIDA) program and review staff. The workshop will feature a discussion on resilience in research, a panel discussion with education and training directors, and breakout sessions on the following topics:
Getting the most out of mentor/mentee relationships
Fighting imposter thoughts
Postdoc Fellowships
Career Transitions (K-R)
Non-academic Career Paths
NIH Mentored K Applications
All interested graduate students, postdoctoral fellows, and early career scholars are welcome to register and attend.
NIH Diversity Supplement Professional Development & Networking Workshop Recap  
The 2023 Diversity Supplement Professional Development & Networking Workshop, sponsored by 23 NIH Institutes, Centers, Offices, and Programs, supports the career advancement of scholars from various career stages supported through NIH's Diversity supplement program. The meeting was held virtually both on Zoom and the Gather Town platforms. On each day of the two-day event, between 500-600 participants attended panel discussions and conversations in breakout rooms on a variety of subjects related to professional and career development. Additionally, approximately 300 participants attended the virtual poster sessions each day of the conference while 114 junior investigators presented their work at these poster sessions. Diversity supplement recipients were able to network and meet with program officers and staff from more than half of NIH's Institutes and Centers! See the agenda to learn more about the program. 
There was a lot of positive feedback from attendees! Vivienne Lubbat, an undergraduate student, stated: "I started with the Diversity Supplement program as a senior in high school and am now 20 years old. The Diversity Supplement quite literally changed my life… through the different grants I've been hearing about at this conference, I can hone in on ways to support my work. I'm super excited to be here." Alicia Chou, a program officer at NIDCR offered her insights: "I attended the conference last year. It was great to get a chance to hear the supplement recipients talk about their work. They are so excited and invested in what they're doing. Even better, I get to see some recipients who presented last year and see how their work has evolved. I just met up with one Diversity Supplement recipient who just got accepted into a PhD program—that was really exciting to see." To learn more about NIDA's Diversity Supplement Program and the annual workshop, contact Dr. Angela Holmes (angela.holmes2@nih.gov). 
---
Program Updates  
The NIDA Diversity Supplement Program is Accepting Applications!
NIDA participates in the National Institutes of Health diversity supplement program by funding administrative supplements to active NIDA grants in order to provide research and professional development opportunities to trainees and early career scholars.  The goal of the program is to improve the diversity of the research workforce; graduate students, postdoctoral students, and eligible early career investigators from diverse backgrounds, including those from groups demonstrated to be underrepresented in the biomedical, behavioral, clinical and social sciences, are eligible to apply. 
There are multiple Diversity Supplement Programs to consider. Grants supported under the NIH Helping End Addiction Long-term (HEAL) Initiative, grants supported under the Brain Research through Advancing Innovative Neurotechnologies (BRAIN) Initiative, and the existing NIDA grant programs are all offering Diversity Supplements to provide support that will help launch the careers of underrepresented scientists in addiction research. HEAL awardees must apply to PA-23-189 through the NOSI, NOT-NS-20-107. BRAIN Initiative awardees must apply to PA-23-189 through the NOSI, NOT-NS-22-012. See the announcements for deadline information. PIs with HIV/AIDS-related grants are particularly encouraged to apply. Applications to be considered for funding during  FY2024 are due to NIDA by May 9, 2024. 
For more information on the NIDA Diversity Supplement Program please see the NIDA Diversity Supplement Program webpage, FAQs, and How to Apply.
NIDA Summer Research Internship Site Registration is Open Now!
Are you a NIDA PI with at least one year remaining on an active grant award?  Are you interested in hosting a Summer Intern in your lab? We invite you to review the material below and register your research site no later than October 13, 2023!
The NIDA Summer Research Internship Program is an 8-week summer internship for undergraduate students. This program is directed through NIDA's Office of Diversity and Health Disparities and is intended to support the growth of a diverse biomedical research workforce in substance use and addiction science. If you are passionate about providing growth opportunities for budding scientists, and you feel that your research site can provide a rewarding summer research experience for undergraduate students, please consider hosting a summer student. 
Register now! 
For any questions, please contact Ms. Julie Huffman (julie.huffman@nih.gov) or see the NIDA Summer Research Internship Program website.
NIDA Loan Repayment Program – Apply by November 16th 2023!
Applications for the NIH Loan Repayment Programs (LRPs), a key component of our Nation's efforts to attract health professionals to careers in biomedical or biobehavioral research will be accepted until November 16, 2023.
NIDA participates in five of the Loan Repayment Programs:
For additional information on NIDA's participation in the LRP program, contact Dr. Lindsey Friend at NIDA_LRP@nida.nih.gov. For additional LRP assistance, visit www.lrp.nih.gov or call the LRP Information Center at (866) 849-4047.
---
Career Development Spotlight: Dr. Priscilla Lui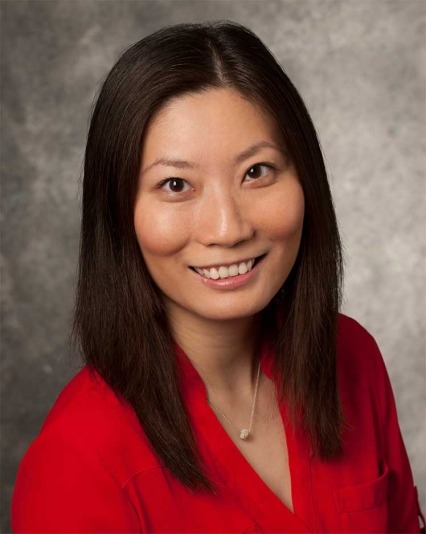 The NIDA ORTDD is thrilled to introduce Dr. Priscilla Lui, Assistant Professor of Psychology at the University of Washington in Seattle to the NIDA research training community. Dr. Lui was a 2020 NIDA Diversity Scholars Network Program scholar and was recently awarded an R01 grant titled "Effects of Direct and Vicarious Discrimination on Alcohol and Cannabis Cravings: Virtual Reality Experiment." The ORTDD is incredibly proud of Dr. Lui's drive, determination, and success as an early career scholar. Read more about her in the article below.
Please share a little about yourself, your upbringing, your educational background, and research focus. 
I am an Assistant Professor of Psychology at the University of Washington in Seattle. I was at the Southern Methodist University in Dallas as an Assistant Professor, and was promoted to Associate Professor with tenure shortly before moving to my current institution in December 2022. I received my Ph.D. in clinical psychology in 2016 from Purdue University. Prior to my doctoral training, I graduated from the University of Washington with double majors in biology and psychology, and received my M.A. in psychology from the California State University in Los Angeles. My research is on alcohol and substance use in communities of color and other underrepresented and underserved populations. Specifically, I use a multicultural perspective to conduct original research and evidence synthesis in clinical psychology and addiction. As part of my research portfolio, I also conduct research related to measurement development and psychometrics, and engage in open science and meta-science efforts aimed at enhancing the rigor and equity of our science. I grew up in Hong Kong, and some of my research interests reflect my cultural upbringing, intercultural contact, and experiences as a person of color in the United States.   
At what point in your life did you know you wanted to become a scientist? What drew you to the STEM field and particularly substance use/addiction research? 
I had my scientist hat early in life. I remember taking apart my parents' clocks and other random household objects, and trying to put them back together when I was a kid (I was not always successful)! In secondary school, I took mostly science classes, and the quest for exploration and empiricism planted the seeds for becoming a scientist. I became interested in addiction when I worked in Marsha Linehan's lab as an undergraduate research assistant. One of the aims of the project was to examine the efficacy of various treatment options for substance use disorders. I worked with patients/research participants for the project and came to appreciate the complex nature and impact of addiction. 
Were there any events or individuals who inspired you throughout your professional journey? 
Not to sound cliché, most people—mentors, colleagues, mentees, community partners, and research participants—all have inspired me on this professional journey in large and small ways. I particularly appreciate when mentors and research partners share with me their experiences and struggles, which allow me to understand that "we are in it together." I also am humbled when interacting with the community and research participants, to be able to solicit input about how to make our research impactful and meaningful, and receive feedback on ways to improve our study designs and interpretations. 
How did you learn about the NDSN Program? Please share about your experience as an NDSN scholar, major takeaways from participating in the program, and how the program has impacted your career trajectory? What grants have you received since participating in the program?
Frankly, I don't remember how I learned about the NDSN Program (it was before the COVID-19 pandemic). It probably was referred to me by a colleague. I initially applied and was accepted to be in the 2020 cohort, but with early phase of the pandemic, NDSN didn't happen that year and I deferred my participation to 2021. Being an NDSN scholar was one of the best experiences I have had as a scientist! The application to the Program itself challenged me to formulate a coherent research proposal, and the timeline built into the Program provided structure for me to flesh out the idea and compose other elements in the application. The mock review from experts in substance use and addiction—and other relevant content areas—was by far the most eye-opening experience. I also learned about the Early Career Reviewer Program in NIH, and reached out to Scientific Review Officers to become involved in peer reviews. Reviewing others' applications helped me understand better NIH review criteria and process. Based on my product from the NDSN Program, I recently received funding from NIDA on my first (R01) grant. Having had limited opportunities to assist with mentors' grant applications and not being eligible for most NIH's predoctoral mechanisms, I think the NDSN Program offered such opportunities and helped bridge some gaps in my repertoire as a scientist.
What has been the most challenging obstacle you have had to face throughout your career journey to becoming a scientist and what have you done to push through? 
There have been times when personal circumstances made things challenging. Having trusted mentors and people in my personal life, who can empathize and support me was tremendously humbling. Rejections and "unsuccessful" applications are commonplace experiences. I have had the community to seek critical feedback, reassurance, and emotional support. All of these help me look at the big picture and remind myself the roles of science and responsibilities of a scientist, and muster energy to push through challenges.
Can you offer any advice to ESIs/scholars in earlier career stages whose who are navigating the NIH process for submitting grants and working towards the goal of being independently funded? 
I am still learning and navigating this process myself! In my experience thus far, I can succinctly put my thoughts into 4Ps: persistence, practice, patience, people. Seeking (NIH) grant funding takes a lot of trial and error, therefore I find it critical to be persistent in submitting and revising, practicing the art of grant writing, and exercising patience during the process. I have had colleagues and mentors remind me that it's partly a numbers game. I remember not knowing what I was doing with my first grant application, and over time, I think I am developing a better understanding of the landscape and process. I also think it's helpful to know that not all research projects may be NIH funded, and there are creative ways to support various kinds of studies. Often, using institutional support and other seed funding to demonstrate feasibility and work out kinks in studies will strengthen NIH applications. I don't think anyone does research alone—even in seeking "independent" funding. I have been fortunate to work and consult with, and learn from, brilliant and diverse communities of scholars. Seek feedback, bounce off ideas, and stumble upon collaborations, all of which can enhance the quality of grant applications and the research itself. I think cultivating these relationships with people has made my research and work meaningful and enjoyable.
Did You Know?  
The National Institutes of Health has a Scientific Workforce Diversity Seminar Series!
The purpose of the series is to share the latest research on scientific workforce diversity topics by engaging with interested professionals and researchers at NIH and beyond. Hear the seminar from this past June on "How Does Mentoring Impact Diversity in the Biomedical and Behavioral Research Workforce?" and stay tuned for the 2023-2024 series that will begin this fall.
Publication on Racial Inequities and Addiction Research
An article entitled "Racial Inequities in Addiction Research" written by Drs. Wilson M. Compton, Emily B. Einstein, Eric M. Wargo, Aria D. Crump, and Will M. Aklin was recently published in Drug and Alcohol Dependence. The article highlights NIDA's role in prioritizing research on health disparities and supporting efforts to enhance scientific workforce diversity, among other important topics.
Read the publication.
Stay Up to Date!  
For more information on NIDA Funding Opportunities, visit the Funding Opportunities at NIDA webpage. For a full list of NIH training, fellowship, career development, and research education funding opportunities including parent announcements, please visit and subscribe to the NIH Guide to Grants and Funding.