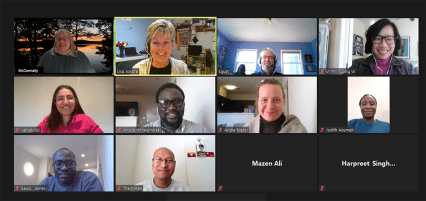 After a COVID-delayed start to their fellowships, the 2020–2021 NIDA Hubert H. Humphrey Drug Abuse Research Fellows arrived at Virginia Commonwealth University in December 2020. The fellows will participate in academic coursework and individualized professional development activities—much of it virtually. Among those meetings were two virtual meetings with NIDA, one with the Substance Abuse and Mental Health Services Administration (SAMHSA), and one with the Inter-American Drug Abuse Control Commission, known as CICAD.
During a December 17 meeting with NIDA International Program staff, including Fellowship Administrator Lisa Jordre, the fellows described their backgrounds and fellowship goals. That knowledge helped NIDA plan a virtual orientation on January 13, where NIDA International Program Director Steven Gust, Ph.D., welcomed the Humphrey Fellows and described the Institute's international priorities. Petra Jacobs, M.D., M.H.S., of the Center for the Clinical Trials Network (CTN), described the CTN partnership between researchers, treatment providers, and NIDA. Raul N. Mandler, M.D., FAAN, FANA, of the Division of Therapeutics and Medical Consequences, reviewed NIDA efforts to develop pharmacological and behavioral treatments for substance use and the medical consequences of drug use. Brian Marquis, Office of Science Policy and Communications (OSPC), described how fellows could participate in the National Drug and Alcohol Facts Week® community education program. OSPC Deputy Director Jennifer Hobin, Ph.D., discussed the Institute's work with Congress and other policymakers, strategic planning, research priorities, and information dissemination activities. Division of Epidemiology, Services and Prevention Research staff members who spoke included Carrie Mulford, Ph.D., who discussed services research and the Justice System Research Initiative; Aria Crump, Sc.D., and Minki Chatterji, Ph.D., who reviewed evidence-based prevention programs focused on community approaches, youth, and women; and MeLisa Creamer, Ph.D., M.P.H., who discussed the National Drug Early Warning System (NDEWS) and epidemiological research.
The NIDA Humphrey Fellows also met with other U.S. and international experts. On January 12, SAMSHA staff reported on innovations in substance use treatment and prevention, polysubstance use, the Drug Abuse Warning Network, Technology Transfer Centers, the evidence-based best practices resource center, and the impact of COVID-19 on efforts to address mental health and substance use disorders (SUDs). On February 5, the fellows met virtually with Marya Hynes, chief of the Inter-American Observatory on Drugs (OID) at CICAD. OID supports collection and analysis of drug use data by members of the Organization of American States to promote evidence-based national drug policies in the Western Hemisphere. Ms. Hynes described steps the fellows can take to establish drug observatories. 
The 2020-2021 NIDA Humphrey Fellows are:
Mazen Ali, M.D., Ph.D. (Bahrain), is a psychiatrist who trained at King Faisal University in Saudi Arabia and completed a 2-year fellowship in mood disorders at the University of British Columbia, Canada. Since 2013, Dr. Ali has been a consultant adult psychiatrist at the Psychiatric Hospital of Bahrain, where he sees patients and conducts research on metabolic syndrome among psychiatric patients, psychiatry and religion, and the prevalence of different psychiatric disorders in Bahrain. Dr. Ali also is an assistant professor of psychiatry at Arabian Gulf University, where he is involved in teaching medical students and psychiatry residents. During his fellowship, Dr. Ali plans to improve his research skills and focus on treating SUDs, developing policies and programs to create an effective and efficient national program for substance abuse treatment, and improving Bahrain's substance abuse services.
Judith Kokui Azumah, B.S.N. (Ghana), is a program manager in the Pantang Hospital drug treatment and rehabilitation center, where she oversees the treatment program. She also manages a rehabilitation unit at Accra Psychiatric Hospital, where she serves as the national reference person for the West Africa and Pan-African Epidemiology Network on Drug Use, and is responsible for collecting, collating, and disseminating data on drug use in Ghana. Ms. Azumah holds an International Certified Addiction Professional II certification and is a master trainer for the International Society of Substance Use Professionals (ISSUP). During her fellowship, Ms. Azumah plans to improve her project management skills and learn how to conduct needs assessments. She hopes to develop public health campaigns, identify available funding, and later implement evidence-based treatment programs for women with SUDs in Ghana.
Rabia Bilici, M.D., Ph.D. (Turkey), founded the Alcohol and Drug Addiction Research, Treatment and Education Center at Erenköy Mental Health and Neurological Diseases Research and Training Hospital, where she is a chief physician. She also is an associate professor of psychiatry at the University of Health Sciences and the founding director of a doctoral program as the head of the Addiction and Fight Against Addiction Department. Previously, Dr. Bilici worked as the drug addiction plan coordinator for the Republic of Turkey Ministry of Health. She also founded the first outpatient rehabilitation center for addicted adults in Turkey, where she established a mother-baby unit for addicted women. Dr. Bilici has worked on many projects with the World Health Organization and is a member of the Green Crescent Science Board. During her fellowship, she plans to create a doctoral program for healthcare professionals. She is also interested in creating a treatment and rehabilitation program for people imprisoned due to drug-related crimes.
Bawo James, M.D., M.S., M.B.A. (Nigeria), is an addiction psychiatrist at the Federal Neuropsychiatric Hospital in Benin City, where he heads the Drug Abuse Treatment Education and Research Unit. His role includes clinical care, program oversight, training, and research. Dr. James is a certified master trainer for TREATNET, a national trainer for the Universal Treatment Curriculum, and an executive of the ISSUP Nigeria Chapter. During his fellowship, he hopes to further develop his skills in grantsmanship and research, as well as his knowledge of telehealth for addiction treatment. To reduce the treatment gap in Nigeria for persons with mild- to moderate-SUDs, he also wants to develop the ability to train staff on motivational interviewing and screening, brief intervention, and referral to treatment.
Lucy Kiarie, M.S. (Kenya), has more than 5 years of experience in research, policy, and advocacy at the national, county, and community levels. She has focused on improving funding and operation of immunization, youth, and reproductive health services. Ms. Kiarie campaigned for linked funding and budget agendas of the Ministry of Health, Ministry of Finance, and Parliament, enabling policymakers to make better-informed decisions. Ms. Kiarie also worked with civil society organizations in Kenya, Ghana, and Côte d'Ivoire to petition their respective governments to increase support for routine immunizations. During her fellowship, Ms. Kiarie plans to enhance her leadership skills by focusing on community-based participatory research strategies, studying policy development at the state and local levels, learning more about project planning and evaluation, and engaging in public speaking.
Dede Kwadjo, M.Phil. (Ghana), is the principal dietitian at the National Reconstructive Plastic Surgery and Burns Centre, where she provides medical nutrition therapy for patients and supports community health advocacy. Ms. Kwadjo developed policies and protocols for training and research related to burns and cleft care and serves as a preceptor for student and healthcare personnel training. She founded an ongoing nutrition program for people with cleft conditions and defects through Operation Smile Ghana and currently is a member of its Medical Advisory Council. In addition to Operation Smile, she has collaborated with organizations such as Interburns and ReSurge Africa. During her fellowship, Ms. Kwadjo seeks to broaden her knowledge of healthcare policies and managerial strategies related to successful public-health intervention outcomes and to enhance her skills in leadership, communication, research, and project management.
Andia Meksi, M.A. (Albania), is a mental health specialist at the Institute for Public Health Department of Health Promotion and a drug specialist for the National Data System Office on Drugs. She also is a seasoned cognitive-behavioral therapist and is training to lead groups in psychoanalytic therapy. Ms. Meksi has worked as a forensic psychiatric facility psychologist, methadone treatment center counselor, and project manager for the WHO Albania Office. At the WHO, she organized trainings for health professionals at the national, regional, and local levels as well as facilitated drug policy development meetings. Ms. Meksi holds an International Certified Addiction Professional I certificate from ISSUP. During her fellowship, Ms. Meksi plans to improve her addiction research skills, particularly around data information systems, and would like to enhance her drug-related project management and public health policy evaluation skills.
Innocent Mwombeki, M.D., M.P.H. (Tanzania), is the head of training and research at Mirembe Mental Health Referral Hospital. Working in collaboration with the Ministry of Health, universities, and various nongovernmental organizations in Tanzania, he has helped develop national treatment guidelines and facilitate training programs for mental health and SUDs. During his fellowship, Dr. Mwombeki plans to improve his clinical, research, and public health skills, hopes to develop a research project to create an evidence-based clinical care model for people with SUDs, and would like to gain competencies needed to establish trauma-informed addiction services in methadone clinics in Tanzania.
Harpreet Singh Sidhu, LL.M, M.Phil., M.A., Ph.D. (India), is a director general of police in the State of Punjab, where he also heads the Special Task Force (STF) Against Drugs. Through the STF, Mr. Sidhu has changed the previous "policing only" approach to drug control into a comprehensive strategy by designing the Comprehensive Action Against Drug Abuse, an integrated enforcement-treatment-prevention model that includes robust treatment and prevention programs. Consequently, in Punjab there are currently more than 592,000 people in treatment for SUDs, 617,000 volunteers who have registered as drug abuse prevention officers in local communities, and approximately 3.7 million students participating in prevention programs. During his fellowship, Mr. Sidhu intends to increase his knowledge of different strategies for the prevention of drug abuse, including school-based prevention and community mobilization programs. He also wants to learn about peer support programs as an adjunct to formal treatment for SUDs.
Thein Han, M.B.B.S., M.P.A. (Burma [Myanmar]), is a public health analyst for the Access to Health Fund promoting prison health and harm reduction among people who inject drugs, with responsibilities that include grant management and technical support. Previously, he served as a project manager and program coordinator for the Asian Harm Reduction Network, providing technical and programmatic support for a methadone maintenance therapy program in collaboration with the Ministry of Health. He has collaborated on policy reform with UNAIDS, UNODC, and the WHO on HIV programs. During his fellowship, Dr. Thein would like to enhance his leadership and networking skills and learn about community-based models of prevention, education, and treatment, focusing on adolescents and stimulant misuse.
Vu Thi Tuong Vi, M.P.H. (Vietnam), is a consultant for the United Nations Office on Drugs and Crime in Vietnam, developing workforce training for women substance users and evidence-based interventions to address HIV among stimulant users. Previously, she was a master counselor trainer and project coordinator for the HIV-Addiction Technology Transfer Center at the University of Medicine and Pharmacy in Ho Chi Minh City. For 7 years, she served as head of the Drug Addiction Treatment Program and deputy head of the Harm Reduction Department for the Ho Chi Minh City AIDS Committee, where her team was responsible for planning, implementing, and monitoring methadone treatment, counseling, recovery support groups, and case management. She has consulted with the Vietnam Ministry of Labor to develop an operational manual for community-based drug addiction treatment and conducted research to help improve the availability and quality of SUD services, including providing evidence-based treatments for LGBT people and those with HIV and providing methadone treatment following funding reductions from international donors. Ms. Vu's primary goal for her fellowship is to increase her knowledge about evidence-based interventions for underserved populations, particularly women, transgender women, and adolescents.