Science
Naloxone is a safe, opioid antagonist with the ability to rapidly reverse the effect of opioids. It can be safely and effectively administered intranasally or intramuscularly with little training. Reports have shown that overdoses are typically witnessed by people who are willing to provide assistance, thus providing more opportunities for naloxone distribution and other harm reduction strategies to potentially decrease the morbidity and mortality associated with opioid misuse. Ongoing efforts are striving to expand naloxone distribution as "increasing the pool of individuals carrying naloxone increases the likelihood that the first person to arrive at an overdose is capable of initiating naloxone [for] reversal" (Hawk, Vaca, & D'Onofrio, 2015).
With the rise in opioid overdose deaths in the past decade, many pharmacists have worked toward making naloxone distribution a standard practice among individuals who misuse opioids and patients with prescriptions for opioids for chronic pain. Pharmacists can play a key role both in prescribing and dispensing naloxone, as authorized, and in disseminating information about it to patients, their loved ones, providers, and the community. Bailey and Wermeling state that pharmacists have a great opportunity to be in the forefront of preventing opioid-related deaths and in identifying high-risk patients (Bailey & Wermeling, 2014).
Insights From a Pharmacist
Image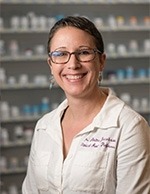 Anita N. Jacobson, PharmD
Clinical Professor
University of Rhode Island (URI) College of Pharmacy
Furnishing naloxone and educating patients at the pharmacy.
"What needs to be done, is that anyone who comes into the pharmacy who is at risk or knows someone at risk for an opioid-related breathing emergency is recommended naloxone. The pharmacist should ask, 'Would it be okay if I take a couple of minutes of your time and talk to you about naloxone?' Anyone can be an opioid first responder and save a life. It's as simple as that."
Getting Started: Key Considerations for Success
Dr. Anita Jacobson, Pharm.D., is an associate professor at URI College of Pharmacy, and teaches future pharmacists about helping patients who are at risk of opioid overdose and about furnishing naloxone to them and their loved ones. Specifically, she teaches students about motivational interviewing, patient counseling, cultural sensitivity, how to talk with people at risk for opioid overdose, and how to implement harm reduction strategies. Below are a few key considerations shared by Dr. Jacobson that other pharmacists might keep in mind when dispensing naloxone. 
Getting to Know Naloxone
Familiarize yourself with your state's laws, including Good Samaritan laws. A common model—among a majority of states—allows patients to get naloxone directly from a pharmacist without a prescription from a physician. This authority for pharmacists to furnish naloxone is generally granted through statewide protocols, standing orders, or collaborative practice agreements, depending on the state. Web resources can help you learn about the naloxone overdose prevention laws and community pharmacy regulations for furnishing naloxone in your state. Dr. Jacobson also notes it's important to remind those to whom you've dispensed naloxone (e.g., patients, loved ones) to be aware of Good Samaritan laws, since these types of policies—in place in almost all states—tend to protect both the individual who overdosed and the person administering naloxone from drug possession charges. Such information is relevant because some may be hesitant to call 911 after they've administered naloxone.
Learn about syringe policies and programs. Not all states allow people to purchase syringes without a prescription, but there are syringe service programs in many communities where people who inject drugs can access sterile needles and syringes. Dr. Jacobson suggests referring people to these programs, as well as harm reduction organizations like the North American Syringe Exchange Network (NASEN), which has programs that provide syringes, HIV/HCV testing, and fentanyl test strips.
Considerations for Patient Care
Identify people at risk of overdose, build rapport, and offer naloxone. In patients who were prescribed an opioid, risk factors include higher doses of prescription opioids and other medications prescribed with opioids (e.g., benzodiazepines); some medical conditions, including lung problems, sleep apnea, substance use disorders, and liver/kidney disease; and prior, nonfatal overdose. Dr. Jacobson notes that having detailed discussions about risk factors can help patients understand their overdose risk and serves as a good segue to discussing and offering naloxone.
Encourage patients to bring someone with them when picking up naloxone. Unlike an epinephrine auto-injector, naloxone cannot be self-administered. If a loved one is present when naloxone is furnished, pharmacists can offer guidance on recognizing the signs of overdose and how to correctly administer naloxone, as well as on the importance of calling 911 and remaining with the patient in case a second dose is needed.
Promote a culture of sensitivity and recovery. Using destigmatizing language and actions can help patients or family members feel more comfortable about receiving naloxone. Dr. Jacobson suggests using "breathing emergency" instead of "overdose" for all patients receiving naloxone and avoiding the use of "addict," "drugs of abuse," "junkie," or "getting clean." Talking about addiction as a brain disease, and not a lack of willpower or character flaw, can also help reduce feelings of discrimination in patients. Check out this handout for a quick overview of terms to avoid and to use.
Visit NIDAMED for additional resources for you and your patients.
Propose New Topics/Contact Us
Have any questions about the content on this page or do you have another topic in mind for Science to Medicine? Contact NIDAMED Coordinator Brian Marquis with ideas or questions about Science to Medicine content.