The National Institutes of Health (NIH) Loan Repayment Programs (LRP) Help Make Careers in Biomedical Research Possible – Application Cycle opens September 1 and closes November 16, 2023.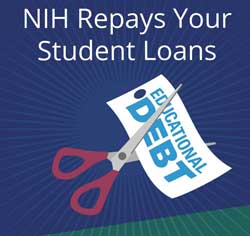 Get Your Student Loans Paid!
Applications for the NIH Loan Repayment Programs (LRPs), a key component of our Nation's efforts to attract health professionals to careers in biomedical or biobehavioral research will be accepted until November 16, 2023.
NIDA participates in five of the Loan Repayment Programs:
A productive way to pay off educational debt: In exchange for a 2-year research commitment in clinical, pediatric, or health disparities research related to substance use disorders, NIDA will repay qualified educational debt up to $50,000 per year during this 2-year period. Limited assistance to offset repayment-related increases to Federal income tax will also be provided. Participants may apply for additional 1-year contracts to repay remaining debt.
Basic qualifications: An applicant must be a citizen or permanent resident of the U.S., have a doctoral-level degree, and have educational debt equal to at least 20 percent of base salary. NIDA's broad definition of qualifying applicants includes individuals holding any biomedical or behavioral doctoral degree (e.g., M.D., Ph.D., Pharm.D., Psy.D., D.O., D.D.S., D.M.D., D.P.M., D.C., N.D., O.D., D.V.M.) who engage in LRP-qualifying research relevant to NIDA's mission. NIDA gives higher priority to applicants who are earlier or more junior in their careers over mid-career or senior investigators.
Commitment of service: Program participants must conduct research in substance use/substance use disorder for a 2-year period. The research must be funded by a domestic nonprofit or U.S. Government (Federal, State, or local) entity. A minimum of 50 percent of total effort (i.e., at least 20 hours of a 40-hour work week) is required.
Application process: The entire LRP application is online at www.lrp.nih.gov. Please refer to the Web site for details of each LRP, eligibility requirements, current application deadline, and award schedule. The LRPs are competitive programs, with no guarantee of an award.
Tips for Completing Competitive Applications: To see suggestions for submitting a strong application, see: Tips for Completing a Competitive Application (PDF, 233 KB).
Additional information: For additional information on NIDA's participation in the LRP program, contact Dr. Lindsey Friend at NIDA_LRP@nida.nih.gov. For additional LRP assistance, visit www.lrp.nih.gov or call the LRP Information Center at (866) 849-4047.