Project Overview
The goal of the SREC Project is to facilitate clinical research into the impact of e-cigarettes on public health. We achieved this by developing a standardized device with a data package sufficient to support FDA authorization for clinical investigations. The SREC produces a consistent, well-characterized aerosol, and was designed to serve as a standard for clinical studies without concern of unreported modifications being made to the device during the course of a multi-year study. The SREC is intended for use in NIH-funded human subject studies. Requests to purchase for any other use will be reviewed on an individual basis by NJOY, LLC.
Product Pricing
Product available directly from NJOY LLC (ordering information is below).
SREC Battery
Supplied with USB cable
$10 USD
Image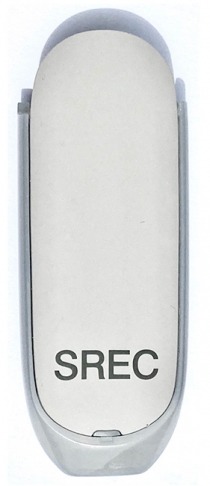 SREC Pods
2 per blister pack box
$20 USD per box.
Image

How to Order the Standardized Research E-Cigarette (SREC)
Requests to purchase SREC, or to obtain additional information, should be made to Mr. David Graham, dgraham@njoy.com.
When contacting NJOY, LLC regarding your request to purchase, you will need to provide the following information:
Physical Characteristics
Assembled SREC Dimensions
Length: 88 mm (3.5 inches)
Width: 30 mm (1.2 inches)
Thickness: 13 mm (0.5 inches)
Device Weight: 54g ± 5g
Filled Pod weight: 7.5g ± 0.5g
Image

SREC Battery Characteristics
USB Rechargeable
Storage Capacity ~ 400 mAh
Approx 200 (3s) puffs / charge
300 charge cycles to > 80% initial capacity
Time to full charge 75 – 85 min
Voltage / Temperature settings not user adjustable
Image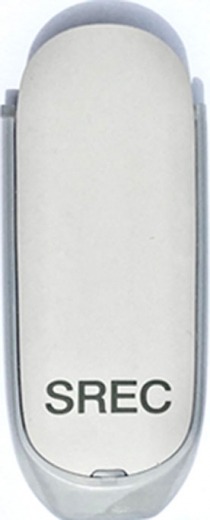 SREC Pod Characteristics
Sealed, pre-filled, non-refillable
1.9 mL e-liquid with 5% w/w nicotine (placebo also available)
Porous ceramic wick atomizer
Air pressure differential-activated heating element
Approx 300 (280-330) puffs / pod (puff= 3s, 55mL)
SREC Pods are Barcode Engraved
Master code list to identify active and placebo
Code list only released to named study staff on investigator-authorized written request
Image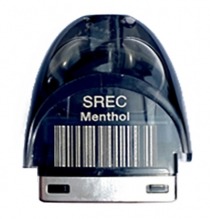 E-liquid Characteristics
Volume of liquid per pod 1.9 mL
Active (nicotine USP 5% wt/wt) and placebo (nicotine 0%)
Propylene Glycol USP & Vegetable Glycerin USP - PG/VG Ratio 0.77
Lactic Acid USP (5% nicotine pods only)
Artificial flavor ingredients
Flavors (Active and placebo)

Rich Tobacco
Menthol
Blueberry
Watermelon
Aerosol Characteristics (per 55 mL / 3 s puff)
Aerosol Collected Mass  ~ 6 mg
Propylene Glycol ~ 2 mg
Glycerol ~ 3 mg
Nicotine ~ 0.3 mg
Cotinine ~ 0.07 μg
Myosmine ~ 0.05 μg
Nornicotine ~ 0.04 μg
Anabasine *BDL (0.004 μg #LOD)
Anatabine BDL (0.004 μg LOD)
Beta-nicotyrine  BDL (0.004 μg LOD)
Acrolein ~ 0.04 μg
Acetaldehyde ~ 0.03 μg
Formaldehyde ~ 0.03 μg
Acetyl Propionyl BDL (0.0168 μg LOD)
Butyraldehyde BDL (0.006 μg LOD)
Crotonaldehyde BDL (0.006 μg LOD)
Diacetyl BDL (0.006 μg LOD)
Nickel ~ 0.005 μg
Lead ~ 0.0002 μg
Cadmium BDL (0.0006 μg LOD)
Chromium BDL (0.0007 μg LOD)
*BDL = Below Detectable Limits, #LOD = Limit of Detection
Nicotine Pharmacokinetics
Information is available upon request by researchers for use where needed for NIH grant application submissions or IRB review.
Other Information
The SREC cannot be used in human studies with a primary aim of eliminating nicotine use, i.e., nicotine cessation studies. If employed in this manner FDA would consider the SREC to be a drug /device combination, requiring an Investigational New Drug (IND) application approval. At the current time, the SREC Product Master File does not meet IND requirement guidelines.
In order to use the SREC in human subject studies, an Investigational Tobacco Product (ITP) authorization must first be obtained from the FDA.  Guidance on how to file an ITP

When filing the ITP application, you will need to include a Letter of Authorization (LOA) from NJOY, LLC.
The LOA indicates that your application has NJOY's permission to cross-reference the SREC Tobacco Product Master File, which is on file with The FDA Center for Tobacco Products.
You should request the LOA when you contact NJOY, LLC, regarding your purchase of SREC.
Submit the ITP application to:

Center for Tobacco Products
Food and Drug Administration
10903 New Hampshire Avenue
Attn: Document Control Center
Building 71, Room G335
Silver Spring, MD 20993-0002
For any additional information, contact either Dr. Kevin Walton, kevin.walton@nih.gov or Dr. Aidan Hampson, aidan.hampson@nih.gov.