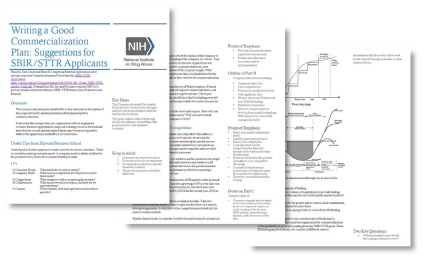 A commercialization plan is a critical component in the application process. This outline document offers suggestions for writing a good quality commercialization plan.
Applicants also are encouraged to work with business development consultants within the Office of Translational Initiatives and Program Innovations (OTIPI) who can provide concrete feedback on the draft of the commercialization plan and the company's pitch deck.
Requests for feedback on the commercialization plan or pitch deck can be made when requesting a Technical Assistance meeting with the OTIPI Team. For companies that have active grants with NIDA, the request also can be made directly to the Program Officer.