Image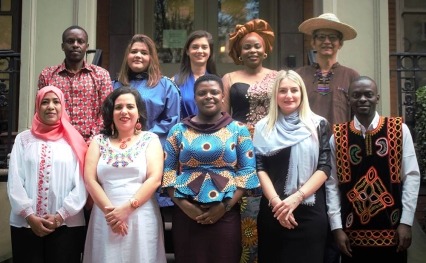 NIDA, the U.S. Department of State, and the Institute of International Education welcome 10 accomplished professionals from around the world as NIDA Hubert H. Humphrey Drug Use and Addiction Research Fellows. They will spend 10 months taking academic courses at Virginia Commonwealth University (VCU), meeting NIDA staff, and participating in professional development activities. NIDA International Program staff will meet the Fellows in late September and early October to learn about their interests and professional affiliation plans. The 2022-2023 Humphrey Fellows include:
Ashwag Abdulrahim (Sudan) is a pharmacist with a master's degree in health economics. Currently, she is the director of international partnerships and projects at the National Health Insurance Fund. Ms. Abdulrahim has more than 10 years of experience working in the field of health management and financing. She was a member of the Tailoring Antimicrobial Resistance Programs National Team that designed and implemented an evidence-based behavior change intervention to reduce antimicrobial resistance. She also has been working on developing provider payment reforms for the government in Sudan. Recently, she has been working as a consultant to develop the first training manual and social accountability tool for community health committees to create and strengthen community-based social accountability mechanisms for health. During her fellowship, Ms. Abdulrahim plans to enhance her skills related to project management, health intervention evaluation, fundraising, and resource mobilization. In addition, she is looking forward to learning more about monitoring health inequities and social injustice in the United States.
Naana Anane Adjei (Ghana) is a dietitian and holds a master's degree in public health with a specialization in health policy planning and management. Currently Ms. Adjei serves as the general secretary of Ghana Academy of Nutrition and Dietetics (GAND), overseeing the activities of GAND and ensuring the advancement of the nutrition and dietetics profession in Ghana. She has also provided clinical nutrition care, community interventions, and preceptorship with the Ghana Armed Forces Medical Services. In 2018, she completed the Emerging Leaders Training Programme at the Young African Leadership Initiative West Africa Regional Leadership Centre. An award-winning speaker, she regularly educates Ghanaians on nutrition. She also has collaborated with organizations including the U.S. Department of Agriculture's AMPLIFIES Ghana project and the Ghana Food Movement. During her fellowship, Ms. Adjei seeks to enhance her public health policy and project management skills. She also hopes to learn how to develop public health interventions that target global nutrition challenges.
Olubusayo Akinola (Nigeria), who holds a doctorate in public health with a specialization in epidemiology and a master's degree in public health, is the principal program officer for drug control and crime prevention for the African Union Commission. She has been involved in several international and national projects on drug demand reduction and drug policy evaluation and facilitates inter-agency collaboration and mechanisms for real-time information exchange systems. She has extensive hands-on experience in multicomponent community-based interventions, recovery, and social integration approaches for people who use drugs. A focus of her work is harm reduction among drug-using populations through a spectrum of effective strategies for managing drug use disorders, behavioral therapies, and recovery support services. During her fellowship, Dr. Akinola aspires to continue to develop professional competence in drug policies and broaden her perspective to generate new knowledge through evidence-based research in substance misuse education, prevention, and treatment.
Henry Espinoza (Nicaragua) received his medical degree in 1996 from the National Autonomous University of Nicaragua. In 2000, under a Fulbright scholarship, he obtained a master's degree in public health from the University of Washington. His academic background gave him a strong foundation for his work in monitoring and evaluating health projects and public health-related research for various national and international clients. During his career, he has focused on strengthening health systems. In addition, he has worked extensively on sexual and reproductive health rights, including several research projects with adolescents and youth. Dr. Espinoza currently assists a non-governmental organization utilizing video calls and texting to ensure the continuation of health services to primarily pregnant women and youth. During his Humphrey Fellowship, Dr. Espinoza wants to learn state-of-the-art tools to improve his ability to monitor and evaluate digital health interventions and their contributions to achieving the United Nations Sustainable Development Goals. He also wants to master key computer programs that will enable him to develop more effective and user-friendly online teaching platforms.
Jean Michel Iyamuremye (Rwanda) holds a master's degree in hospital and healthcare administration and has received an advanced diploma in mental health nursing. For the past 20 years, he has worked at Ndera Neuropsychiatric Teaching Hospital as a mental health nurse, director of nursing, and director of the Icyizere Psychotherapeutic Center, providing care to patients with trauma and substance use issues. He has also helped establish a new substance misuse rehabilitation center in the southern part of Rwanda, has acted as a supervisor and mentor for clinicians-in-training, and has helped develop protocols for treating problems related to the misuse of alcohol and other drugs. During his fellowship, Mr. Iyamuremye aims to broaden his professional network with educators and healthcare providers to develop a substance use prevention curriculum for secondary schools. He also hopes to enhance the quality of care provided to people suffering from the challenges related to alcohol and other drug use in Rwanda.
Daisy Vargas Méndez (Panama) has a master's degree in child and adolescent clinical psychology. Since 2018, she has been working at the Ministry of Social Development (MIDES), a government institution that enforces social policies and oversees the development of human capital, working with indigenous and rural communities. In her current role as a psychologist at MIDES, she provides case management and facilitates workshops for local communities. She previously served as a facilitator for education and HIV prevention issues in the organization AID FOR AIDS Panama and worked with indigenous people living with HIV at an antiretroviral treatment clinic. During her fellowship, Ms. Vargas aspires to gain knowledge about mental health for people living with HIV and the design of public health programming. In addition, she wishes to enhance her public speaking and psychotherapy skills.
Hala Najm (Lebanon) has a master's degree in public health with a concentration in health promotion and community health. During her career, Ms. Najm's work has addressed substance use, HIV/AIDS prevention, sexual health awareness, and human rights, particularly in marginalized populations. In 2019, she took a World Health Organization (WHO) course on adolescent health in low- and middle-income countries at the London School of Hygiene and Tropical Medicine. She currently holds the position of senior programs associate at Mentor Arabia Foundation, where she designs, develops, and implements evidence-based prevention programs in the Middle East and North Africa. Ms. Najm also serves as a health promotion and adolescent health consultant and as a steering group member for the WHO Global Coordination Mechanism on Noncommunicable Diseases (NCDs) new virtual platform, NCD Lab on the Next Generation. During her fellowship, she plans to focus on improving her public health policy and advocacy skills concerning substance use prevention, particularly the use of marijuana and alcohol among youth in the Middle East and North Africa region. She also hopes to enhance her skills in conducting effective public health campaigns, grant writing, leadership, and public speaking.
Che Hilarious Neba (Cameroon) has a degree in nursing, as well as certifications in contraceptive technology and management of cervical pre-cancer. He presently serves as a facility nurse with the Georgetown Center for Global Health Practice and Impact's TIDE project, where he oversees HIV testing and treatment activities. Previously, he worked for the Mentor Initiative, supervising health and nutrition services for young and for breastfeeding and pregnant women displaced by the conflict in Southwest Cameroon. He was also a quality assurance officer for the Cameroon Association for Social Marketing, a local NGO, where he designed educational materials and trained family planning service providers. He also has worked as a nurse and later as a coordinator in the Women's Health Program at Cameroon Baptist Convention Health Services. During this time, he led mobile clinics to remote communities to provide women's health services and to campaign against harmful practices against women. He comes to the fellowship hoping to improve his ability to conduct needs assessments, manage projects, and lobby authorities for policy and action.
Başak Ünübol (Turkey) has a medical degree and 8 years of experience in the addiction field. She currently works as a psychiatrist at Erenköy Mental Health and Neurological Diseases Training and Research Hospital and is the founder and director of a rehabilitation center for people with substance use disorders in Istanbul. The center, established in 2018, is the first of its kind in Turkey and provides individual, family, and group treatment with medications, psychotherapies, and leisure activities. In addition, Dr. Ünübol is the coordinator of the "mother-baby" unit, the first inpatient rehabilitation center for women with substance use disorder and their children in Turkey. She is also an assistant professor at the University of Health Sciences Turkey, working with Ph.D. students studying addiction. During her fellowship year, Dr. Ünübol hopes to develop plans for further development of the drug rehabilitation program. Additionally, she wants to learn new approaches to trauma-informed care for people in treatment for substance use disorder.
Sonia Riaz (Pakistan) holds both a medical degree and a master's in public health, focusing on reforms in health policy and financing. She currently serves as a technical deputy director for the Federal Ministry of National Health in Islamabad. In that position, Dr. Riaz has been actively involved in the landmark Social Health Protection Initiative leading to universal health coverage in Pakistan and has been awarded an appreciation shield for her accomplishments in this area from the Prime Minister. She has also collaborated with organizations like the World Health Organization, World Bank, and German Agency for International Cooperation for technical development and implementation of a pilot project and communication strategy. She previously joined the Health Department Balochistan and served in the Disease Outbreak and Rapid Response Unit, where she received advanced training in epidemiology and disease surveillance in collaboration with the Centers for Disease Control and Prevention and the associated Pakistan Field Epidemiology and Laboratory Training Program. Additionally, she has worked with a local NGO for Afghan Refugees in Balochistan Province. Dr. Riaz plans to focus her fellowship on public health policy, leadership, and management skills. She hopes to learn more about improving mental health at the primary healthcare level, evaluation and assessment tools to combat infectious diseases, and the process of translating research into policy.