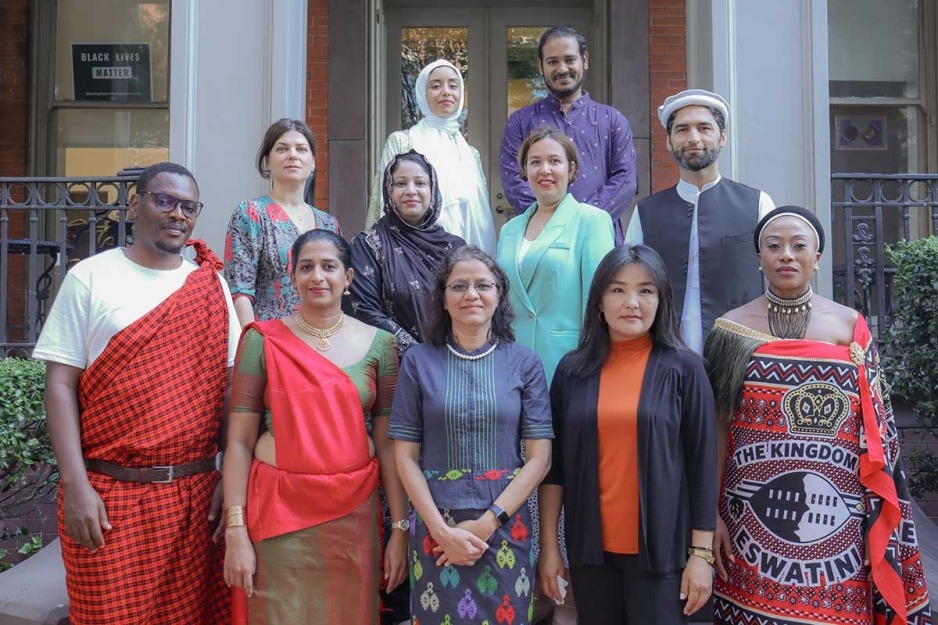 NIDA, the U.S. Department of State, and the Institute of International Education welcome 11 accomplished professionals from around the world as NIDA Hubert H. Humphrey Drug Use and Addiction Research Fellows. They will spend 10 months taking academic courses at VCU, meeting NIDA staff, and participating in professional development activities. NIDA International Program staff will meet the Fellows in late September and early October to learn about their interests and professional affiliation plans. The 2023–2024 Humphrey Fellows are presented below.
Nisharga Meraj Chowdhury (Bangladesh) is a medical doctor and health care professional and holds a master's degree in applied epidemiology. He joined the government service in 2013 and since then has worked as a medical officer at the village level; was promoted to the role of subdistrict health administrator; and in April 2020 assumed responsibility for coordinating the district's COVID-19 response. Dr. Chowdhury also established an epidemiological cell and was appointed as a deputy civil surgeon in his district. In addition to these government duties, he established the charitable Neelavra Foundation to fight against depression and prevent suicide, and he has published nine novels. During his fellowship, Dr. Chowdhury plans to focus on learning more about policy generation and implementation and to expand his leadership skills.
Mona Ramadan EiTantawy (Egypt) has a bachelor's degree in medicine and surgery, a master's degree in neuropsychiatry, and is currently completing her doctorate. She has 7 years of experience in the addiction field, providing various biopsychosocial treatment approaches and conducting support groups for patients with mental health problems. In addition, she conducts research and trains mental health professionals in psychiatry. During her fellowship, Dr. Ramadan plans to gain more experience in various treatment approaches and expand her knowledge of recent developments and best practices in drug use and addiction policy, prevention, and treatment. With this knowledge, she hopes to decrease the stigma associated with substance use, to improve the quality of addiction services in Egypt, and to establish a trauma-oriented treatment center offering a variety of psychotherapeutic treatment modalities.
Iuliia Fatkhullina (Russia) holds a bachelor's and master's degree in law, has 8 years of experience in civil law, and has worked in a Federal Arbitration Court in the West Siberia region as a legal advocate. In 2014 she founded the nonprofit organization "Young Leaders" for orphans and foster families that provides mentoring programs for orphans, courses for individuals interested in adoption, and education and support for women experiencing violence. Ms. Fatkhullina currently provides services to children with histories of psychological trauma, including sexual abuse and substance use. During her fellowship, Ms. Fatkhullina hopes to expand her competence and understanding in substance use education, prevention, and treatment; issues pertaining to surviving sexual violence; and best practices to support survivors of such trauma. She also plans to improve her leadership, public speaking, and project management skills.
Marta Krivade (Latvia) has a master's degree in public health and has held various government positions since 2018, including advising the Latvian Minister of Health on mental health care policy. In this role, she focused on modernizing state mental health services, especially given that those services are currently Latvia's fastest-growing health policy arena and there is a great need to expand patient access to support services such as therapies, community-based services for adolescents with depression, diagnosis and early intervention for individuals with autism, and state-funded psychotherapy and crisis hotlines. During her fellowship, Ms. Krivade plans to begin developing a comprehensive preventative policy for mental health in a wide range of fields. She hopes to learn more on how to include soft skills such as mindfulness in prevention policy, the sociocultural contexts of public health, and modern health education and campaigns.
Zarmina Khan (Pakistan) has a master's degree in chemistry as well as a master of philosophy degree in physiology and endocrinology. During her career, she has worked in different areas of the education and health sector, including girls' education levels on sexual health, hygiene awareness, drug use and addiction, transgender discrimination, and stigma related to HIV/AIDS. Ms. Khan is currently a project coordinator with the Youth Association for Development in both urban and rural areas of Balochistan, where she manages projects, communicates with stakeholders, and trains staff to implement programming. During her fellowship, Ms. Khan plans to focus on improving her leadership skills, enhancing her knowledge of HIV/AIDS prevention, and learning more about HIV/AIDS-related policy.
Sakhile K.S. Masuku (Eswatini) has a bachelor's degree in community health, administration, and midwifery science; a master's degree in nutrition and health; and a Ph.D. in public health. She currently is a lecturer and researcher in the Department of Community Health Nursing Science at the University of Eswatini. Her expertise includes nutrition and health, applied statistics, and epidemiology. Dr. Masuku has extensive experience in public health initiatives, policy, program monitoring and evaluation, health systems strengthening, HIV program implementation, and participatory research. She also has published widely and presented research findings in various scientific forums around the globe. During her fellowship, Dr. Masuku plans to expand her skills in translating research to policy in order to expand evidence-based knowledge and disseminate innovative strategies to promote health and well-being.
Ahmed Nawaz (Pakistan) has a bachelor's degree in commerce and a master's degree in human resource management. For 10 years, he has been working at the United Nations Office on Drugs and Crime (UNODC) in the Pakistan office. He has delivered programs in the fields of drug demand reduction and HIV/AIDS prevention, treatment, and care. Mr. Nawaz is also a National Universal Prevention Curriculum trainer, training teachers, media personnel, and professionals from civil society organizations on evidence-based drug prevention interventions. He also has facilitated the development and implementation of various projects aimed at drugs and HIV/AIDS prevention  and treatment, and he has established HIV testing and counseling clinics at three prisons in Pakistan. During his fellowship, Mr. Nawaz intends to learn from U.S.-based experts and organizations how to enhance drug demand reduction and HIV/AIDS prevention and treatment.
Sanjeewani Senevirathne (Sri Lanka) has a bachelor's degree in criminology and criminal justice and a post-graduate diploma in counseling psychology. She is a community corrections officer and for the past 12 years has been dedicated to rehabilitating offenders. Ms. Senevirathne has received specific training in addiction management and counseling for individuals with substance use disorder and was recently selected for a training program sponsored by the United Nations Asia and Far East Institute on criminal justice response to vulnerable groups. She also works as a freelance journalist to educate the public on psychological counseling. During her fellowship, Ms. Senevirathne wants to further her knowledge and experience regarding substance misuse education, treatment, and rehabilitation to help her provide better services in her country.
Isack C. Rugemalila (United Republic of Tanzania) has a doctor of medicine degree in psychiatry and has completed postgraduate training in addiction studies. He has worked in the areas of substance use prevention, treatment, and recovery for more than 7 years, collaborating with local nongovernmental organizations (NGOs) as well as international entities. As a clinician, Dr. Rugemalila has worked in a clinic offering medication-assisted treatment for clients with opioid use disorder and other co-occurring problems. He also has been involved in key projects, such as formulation of national guidelines or drug policy implementation strategies, and serves as a part-time lecturer at the University of Dodoma. His goals for his fellowship are to gain knowledge on how to increase services for adolescents and women, enhance his country's competency in community-based prevention, and strengthen the role of primary care in addiction treatment.
Gulbarchyn Toialieva (Kyrgyzstan) holds bachelor's degrees in finance and social work and an executive master's degree in developmental policies and practices. She is a conflict-prevention and peace-building specialist and for the past 15 years has managed projects in this field, with a focus on inter-ethnic, cross-border, and religious issues within her country. In 2016, Mrs. Toialieva founded the NGO "Zhalyn" in response to her country's restrictions of the rights of young people and women to obtain education as well as to promote individual rights and freedom. She has extensive experience as a social worker, community mobilizer, and manager of youth projects. During her fellowship, Mrs. Toialieva plans to focus on policy development and management related to conflict, with an emphasis on implications for psychological well-being and national security.
Thinzar Tun (Myanmar) has a master's degree in development management. She specializes in harm reduction practices for people who use drugs and has founded the Asian Harm Reduction Network, an international NGO that promotes harm reduction approaches for people who use drugs in Myanmar. Through this work, Ms. Tun has played a pivotal role in advocating, fundraising, and developing harm reduction programs specifically geared to the needs of people in hard-to-reach and conflict-prone areas of Myanmar. She is currently the director of Best Shelter Myanmar, a local NGO working with people who use drugs, including women and youth, through innovative community-based harm reduction programs. During her fellowship, Ms. Tun plans to learn more about the scientific basis of drug dependence and about behavior change communication strategies and skills based in addiction psychology.