Grantee Institution(s)
Yale University
Building 35
950 Campbell Avenue
West Haven, CT 06516
United States
Harvard Medical School
McLean Hospital
115 Mill Street
Belmont, MA 02478
United States
Principal Investigator(s)
Gail D'Onofrio, M.D., M.S.
Professor of Emergency Medicine
Yale University School of Medicine
Chair, Department of Emergency Medicine
464 Congress Avenue
Suite 260
New Haven, CT 06519
United States
Roger D. Weiss, M.D.
Division of Alcohol and Drug Abuse
McLean Hospital
115 Mill Street
Belmont, MA 02478
United States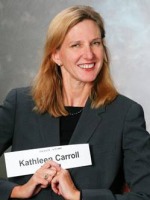 Kathleen (Kathy) M. Carroll, PhD, a clinical scientist in the Yale Department of Psychiatry who made seminal contributions to improving treatments for addiction, died unexpectedly after a brief illness on December 28, 2020, at the age of 62. Dr. Carroll was a Principal Investigator of the CTN New England Consortium Node.
Dr. Carroll's tremendous academic and scientific accomplishments were unparalleled, but she's even better known amongst her friends and colleagues by her kind, generous, and playful spirit. From the Yale School of Medicine's In Memoriam piece about her:
"She had an amazing ability to find joy in everyday situations, especially in life's most difficult moments. She loved swimming, art history, architectural history, hiking, and reading. Kathy was an expert on the works of Shakespeare and opera. She also had a fine sense of humor and loved a good prank. She was a lifelong progressive with great compassion for social justice and coupled anti-racist principles with her recent academic work on identifying and addressing racial and ethnic disparities in substance use treatment outcomes."