Image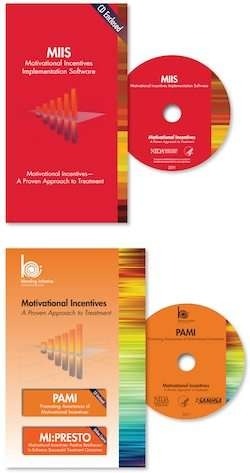 Three user-friendly products are brought together in this Motivational Incentives (MI) Package, representing the newest of NIDA's Blending products. The MI Package assists practitioners, clinicians, and researchers in utilizing and applying Motivational Incentives for treating substance abuse patients. Products were completed in 2011.
Promoting Awareness of Motivational Incentives (PAMI)
This package of tools and training resources introduces the principles behind the clinical use of motivational incentives to help patients abstain from drug use while in a treatment program. It consists of an introductory PowerPoint presentation and a Toolkit of research-based resources (including background research articles and a training guide).
Download the factsheet:
Motivational Incentives: Positive Reinforcers to Enhance Successful Treatment Outcomes (MI:PRESTO)
Motivational incentives help patients stay in treatment programs and abstain from drug abuse. MI:PRESTO is a 5-hour, self-paced online course that can help clinical supervisors design a motivational incentives program to reduce drug abuse and promote positive outcomes for patients. This program expands on concepts introduced in PAMI
Download the factsheet:
Motivational Incentives Implementation Software (MIIS)
This platform provides the mechanisms to assist researchers, clinicians, and counselors in utilizing and applying motivational incentives for treating patients with substance use disorders, maintaining information about clinic patients, and implementing and calculating incentives based on defined parameters. It can be used as a supplement to the MI:PRESTO program to provide in-depth information on the seven principles of motivational incentives.