Congratulations! You have now completed Talking to Patients About Health Risk Behaviors (Unaccredited).
Motivational Interviewing Patient Simulation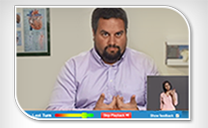 The goal of the Patient Simulation is to provide a practical forum where motivational interviewing skills and techniques can be tested and reinforced.
NIDA offers additional tools and resources for you and your patients, including:
Additional Motivational Interviewing Resources:
References
Chlebowy DO, El-Mallakh P, Myers J, Kubiak N, Cloud R, Wall MP. Motivational interviewing to improve diabetes outcomes in African American adults with diabetes. West J Nurs Res. 2014 Apr 14. [Epub ahead of print]
McKenzie K, Chang YP. The effect of nurse-led motivational interviewing on medication adherence in patients with bipolar disorder. Perspect Psychiatri Care. 2014 Jan 17. [Epub ahead of print]
Purath J, Keck A, Fitzgerald CE. Motivational interviewing for older adults in primary care: a systematic review. Geriatr Nurs. 2014 Mar 18. [Epub ahead of print]
Saftlas AF, Harland KK, Wallis AB, Cavanaugh J, Dickey P, Peek-Asa C. Motivational interviewing and intimate partner violence: a randomized trial. Ann Epidemiol. 2014;24:144-150.
Latchford G. Year 3 motivational interviewing workshop. Leeds Teaching Hospitals. http://www.psychmap.org/uploads/Motivational%20Interviewing%20brief%20guide.pdf. Accessed July 9, 2014.
Miller WR. Motivational enhancement therapy with drug abusers. http://www.motivationalinterviewing.org/sites/default/files/METDrugAbuse.pdf [PDF - 306 KB]. Accessed July 9, 2014.
Miller WR, Rollnick S. Motivational interviewing: Helping people change. 3rd ed. New York, NY: Guilford Press; 2013:161.
American Counseling Association. ACA Blog: Recognizing "change talk" in your clients. http://www.counseling.org/news/blog/aca-blog/2012/02/16/recognizing-change-talk-in-your-clients. Accessed August 12, 2014.