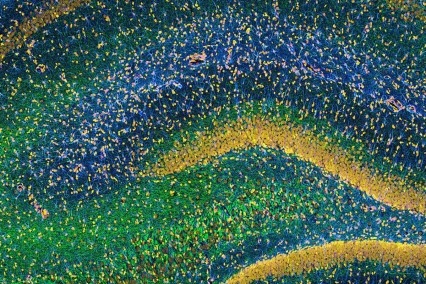 Upcoming Meeting
Virtual Meeting Dates and Times:
• Wednesday, April 27th, 10:30 am - 5:30 pm ET
• Wednesday, May 4th, 11 am - 5:30 pm ET
• Wednesday, May 11th, 11 am - 5 pm ET
The NIDA Genetics and Epigenetics Cross-Cutting Research Team (GECCRT) is a multi-institute working group with members from the intramural and extramural program staff from NIDA, NIAAA and NIMH. The goal of the GECCRT is to support the use of genetic and epigenetic tools to uncover new genetic, biochemical, and epigenetic pathways that contribute to substance use disorders. The GECCRT is hosting a multi-day annual meeting, attended by ~250 extramural and intramural investigators who will present their newest studies through talks (Zoom Webinar) and poster sessions (GatherTown).  Please register for the meeting.
See also - 2022 NIDA Genetics Consortium Meeting Agenda & Abstracts
What We Do:
The mission of the Division of Neuroscience and Behavior is to discover, facilitate and promote outstanding basic animal and human research towards the mission of NIDA, to identify the causes and consequences of drug use disorders and addiction across the lifespan and to guide treatment strategies. We develop and support an extramural research program that will advance the understanding of the genetic, chemical, neurobiological and behavioral mechanisms of drug use disorders and their long-term consequences. Research related to the neurobiological bases of reward and the behaviors that characterize the cycle of addiction are a primary focus of DNB. Additionally, an integral component of our scientific mission is to grow and maintain a diverse workforce that is dedicated towards our research goals and this is supported through training initiatives that span from predoctoral level to mid-stage investigator.
Recruiting New Staff Members
DNB is organized by four scientific Branches that focus on complementary strategic research areas:
Certain cross-cutting programs span all four branches including a portfolio in HIV-AIDS research, Data Science Research (led by Susan Wright, Ph.D.) and research related to sex and gender contributions to individual variability. DNB also encourages studies that leverage tools and technology arising from the BRAIN initiative to address questions relevant to substance use disorders. The Diversity and Inclusion Group (DIG) works to improve opportunities for diversity and inclusion within DNB and in the initiatives it administers.
DNB encourages applicants to consider the importance of design and reproducibility of their findings, as applicable.
Related Funding Opportunities:
Staff Listings:
Mailing Address:
Division of Neuroscience and Behavior
National Institute on Drug Abuse
3WFN MSC 6018
​​​​16071 Industrial Dr
Gaithersburg, MD 20877
(301) 594-6043 (fax)