Research Highlight
Structural insights into opposing actions of neurosteroids on GABAA receptors
Dagimhiwat H. Legesse, Chen Fan, Jinfeng Teng, Yuxuan Zhuang, Rebecca J. Howard, Colleen M. Noviello, Erik Lindahl & Ryan E. Hibbs. Nature Communications. 2023 14(1):5091.
Neurosteroids are endogenous modulators of neurotransmission and are emerging as valuable therapeutics for treating depression. In a recent effort, scientists determined how different classes of neurosteroids bind to the GABAA receptor that is the target of the primary inhibitory neurotransmitter of the brain, GABA. This receptor is part of a superfamily of pentameric ligand-gated ion channels. Cryo-electron microscopy revealed the binding site for the positive modulator, allopregnanolone, deep in the membrane, at an interface of two subunits in the receptor (see Figure). This neurosteroid is currently used to treat post-partum depression. The investigators further found that two sulfated steroids, DHEAS and pregnenolone sulfate, bind in the ion channel itself, and thereby inhibit channel activity. The findings reveal how chemically similar modulators act through distinct receptor sites to generate opposing activities. The details of allopregnanolone binding in particular may be helpful in developing improved antidepressants.  
 
Past Highlights
Structure-based design of bitopic ligands for the µ-opioid receptor

Insights into distinct signaling profiles of the µOR activated by diverse agonists

Synthon-based ligand discovery in virtual libraries of over 11 billion compounds

High-throughput screening and validation of antibodies against synaptic proteins to explore opioid signaling dynamics

Structure of a Hallucinogen-Activated Gq-Coupled 5-HT2A Serotonin Receptor
What We Do:
The Chemistry and Pharmacology Branch (CP) supports research on all aspects of chemistry and pharmacology affected by addictive drugs. The CP Branch maintains, develops, and oversees a portfolio encompassing research, such as:
Elucidating mechanisms  of action, structure-activity relationships, understanding of basic principles involved with biological activity, pharmacology and toxicity,
Developing new receptor  type and subtype specific agents and,
Supporting research on the pre-clinical development of new pharmacotherapies  for the treatment  of substance use disorders emphasizing the pre-clinical stages of target identification through hit-to-lead.
Research Interests/Goals:
This branch supports research programs on
Elucidate effects of drugs on all the physiological systems including the central nervous system and the other physiological systems such as the cardiovascular, pulmonary, and immune.
Using synthetic, medicinal, Structure-activity studies (SAR) and pharmacological approaches, develops probes for basic research and potential drug leads to treat addictive disorders; Elucidates the chemical mechanism for drug addiction,
The discovery of endogenous ligands, and the role of endogenous ligands and systems relevant to drug action, and addiction
The studies of absorption, metabolism, pharmacokinetics, pharmacodynamics, elimination, transport and delivery
Investigations on analytical methods development, proteomics, protein folding and related functional genomics and structural biology
Synthesis, structure-function relationships, conformational studies, structural biology, ligand design of all addictive drugs; synthesis of affinity reagents, chemical probes, drug-receptor interaction model to elucidate drug action
Pharmacological approaches to understand perinatal drug exposure and the effects of confounding factors, such as, maternal and environmental stress, nutrition etc., on neural systems and other organs utero.
Research Interests and Biographies
Image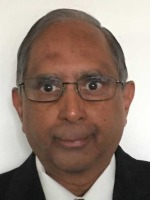 Subramaniam Ananthan, Ph.D. - Chief  
(301) 435-2199  
Dr. Subramaniam (Sam) Ananthan provides leadership, direction, and programmatic oversight to the Chemistry and Pharmacology Branch which manages a diverse portfolio of grants focusing on basic neurochemical mechanisms, signaling pathways, development of pharmacological tools and methods, and identification of druggable targets for addressing addiction and substance use disorders. Prior to joining NIDA, he served as the Principal Investigator on NIDA-funded medicinal chemistry research involving drug design, organic synthesis, and preclinical drug development at Southern Research Institute. He is a co-author on over 90 peer-reviewed publications, co-inventor on 21 U.S. patents, and has been inducted as a Fellow of National Academy of Inventors (NAI). He joined the Division of Neuroscience and Behavior in July 2020. He serves as a member of the trans-NIH working group for the common fund program Illuminating the Druggable Genome (IDG).
Image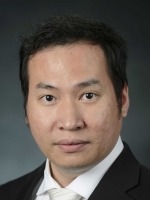 Hoang Le, Ph.D. - Program Officer  
301-451-8849  
Dr. Hoang Le has an extensive background in organic and medicinal chemistry. He graduated from the University of California, Berkeley with a B.S. degree in chemistry and received a Ph.D. degree in organic chemistry from Cornell University. He then conducted his postdoctoral research in medicinal chemistry and enzymology under the guidance of Dr. Richard Silverman at Northwestern University. Before joining NIDA, he was an Assistant Professor of Medicinal Chemistry in the Department of BioMolecular Sciences in the School of Pharmacy at the University of Mississippi. The research in his independent lab was inspired by natural products and aimed to discover and develop novel derivatives of natural products that are biologically relevant for the treatment of cancers, infectious diseases, and neurological disorders including substance use disorder. His recent work was focused on ligands of the kappa opioid receptor including ligands based on the natural product salvinorin A for treatment of pain and substance use disorder.  As a Program Officer at DNB, Dr. Le will initially focus on developing and expanding a portfolio of grants on the chemistry and pharmacology of opioid receptors with special emphasis on novel ligands and molecular probes derived from natural product scaffolds.
Kiran Vemuri, Ph.D. - Program Officer  
(301) 435-4446  
Dr. Kiran Vemuri serves as a Program Officer for the Chemistry and Pharmacology Branch, NIDA, and manages a diverse portfolio of grants that supports both basic and transformative research for understanding and treating addiction. He is the NIDA representative for the NIH-wide Chemical Countermeasures Research Program (CCRP) that supports the discovery and early-stage development of medical countermeasures against chemical threats including the synthetic opioids such as fentanyl and carfentanil. He is a member of the Interagency Morphine Milligram Equivalent (MME) Workgroup, the Cannabis Science Interest Group, and the Trans-NIH CryoEM and Glycoscience Common Fund Programs. Dr. Vemuri has a background in organic chemistry and translational science and his research interests include multi-step synthesis, route selection and optimization, in vitro and in vivo pharmacology, and the pre-clinical assessment of small-molecules and biologics. Prior to joining NIDA in 2020 as a program officer, he spent sixteen years as an academic researcher while focusing and publishing on the endocannabinoid system. Notably, Dr. Vemuri's research on pseudo-irreversible ligands led to determining the crystal structures of both the human CB1 and CB2 cannabinoid receptors.
Paul S. Hillery, Ph.D. - Project Officer  
(301) 435-1306  
Supports research in organic & medicinal chemistry, structural biology.  
Paul Hillery has a background in organic and medicinal chemistry, based on NIH intramural research and experience in reviewing drug manufacturing and controls in investigational and new drug applications for the Food and Drug Administration. He currently serves as a project officer for assigned NIDA grants pertaining to opioid, cannabinoid, and nicotinic research topics, involving various GPCRs, channels, and transporters, and the related mechanism of action of small molecules, peptides, and proteins involved in substance use disorders.
Active Funding Opportunities
Other Participating Programs