Research Highlight
Structure-based design of bitopic ligands for the µ-opioid receptor
Abdelfattah Faouzi, Haoqing Wang, Saheem A. Zaidi, Jeffrey F. DiBerto, Tao Che, Qianhui Qu, Michael J. Robertson, Manish K. Madasu, Amal El Daibani, Balazs R. Varga, Tiffany Zhang, Claudia Ruiz, Shan Liu, Jin Xu, Kevin Appourchaux, Samuel T. Slocum, Shainnel O. Eans, Michael D. Cameron, Ream Al-Hasani, Ying Xian Pan, Bryan L. Roth, Jay P. McLaughlin, Georgios Skiniotis, Vsevolod Katritch, Brian K. Kobilka & Susruta Majumdar. Nature. 2023, 613, 767-774.
Mu-opioid receptor agonists such as fentanyl have long been used for pain management, but are considered a major public health concern due to their adverse side effects, including lethal overdose. In a recent effort, scientists have designed novel bitopic ligands that simultaneously engage the orthosteric binding site and a conserved allosteric sodium ion-binding site within the µ-opioid receptor. Cryo-electron microscopy structure of the µ-opioid receptor bound to the bitopic ligand "C6guano" revealed that the positively charged guanidine group of the ligand engages the Asp2.50 residue in the sodium binding site. The bitopic ligand also shows a distinct G-protein signaling profile compared to fentanyl. In mice, C6guano produced potent antinociception with attenuated adverse effects including reduced respiratory depression. These findings reveal that both efficacy and functional selectivity can be modulated by the design of ligands that occupy the orthosteric and sodium binding sites in a bitopic manner, thus providing a novel strategy to develop safer opioid analgesics.
Past Highlights
Insights into distinct signaling profiles of the µOR activated by diverse agonists

Synthon-based ligand discovery in virtual libraries of over 11 billion compounds

High-throughput screening and validation of antibodies against synaptic proteins to explore opioid signaling dynamics

Structure of a Hallucinogen-Activated Gq-Coupled 5-HT2A Serotonin Receptor
What We Do:
The Chemistry and Pharmacology Branch (CP) supports research on all aspects of chemistry and pharmacology affected by addictive drugs. The CP Branch maintains, develops, and oversees a portfolio encompassing research, such as:
Elucidating mechanisms  of action, structure-activity relationships, understanding of basic principles involved with biological activity, pharmacology and toxicity,
Developing new receptor  type and subtype specific agents and,
Supporting research on the pre-clinical development of new pharmacotherapies  for the treatment  of substance use disorders emphasizing the pre-clinical stages of target identification through hit-to-lead.
Research Interests/Goals:
This branch supports research programs on
Elucidate effects of drugs on all the physiological systems including the central nervous system and the other physiological systems such as the cardiovascular, pulmonary, and immune.
Using synthetic, medicinal, Structure-activity studies (SAR) and pharmacological approaches, develops probes for basic research and potential drug leads to treat addictive disorders; Elucidates the chemical mechanism for drug addiction,
The discovery of endogenous ligands, and the role of endogenous ligands and systems relevant to drug action, and addiction
The studies of absorption, metabolism, pharmacokinetics, pharmacodynamics, elimination, transport and delivery
Investigations on analytical methods development, proteomics, protein folding and related functional genomics and structural biology
Synthesis, structure-function relationships, conformational studies, structural biology, ligand design of all addictive drugs; synthesis of affinity reagents, chemical probes, drug-receptor interaction model to elucidate drug action
Pharmacological approaches to understand perinatal drug exposure and the effects of confounding factors, such as, maternal and environmental stress, nutrition etc., on neural systems and other organs utero.
Research Interests and Biographies
Image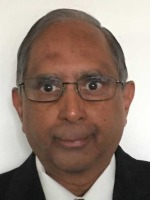 Subramaniam Ananthan, Ph.D. - Chief
(301) 435-2199
Dr. Subramaniam (Sam) Ananthan provides leadership, direction, and programmatic oversight to the Chemistry and Pharmacology Branch which manages a diverse portfolio of grants focusing on basic neurochemical mechanisms, signaling pathways, development of pharmacological tools and methods, and identification of druggable targets for addressing addiction and substance use disorders. Prior to joining NIDA, he served as the Principal Investigator on NIDA-funded medicinal chemistry research involving drug design, organic synthesis, and preclinical drug development at Southern Research Institute. He is a co-author on over 90 peer-reviewed publications, co-inventor on 21 U.S. patents, and has been inducted as a Fellow of National Academy of Inventors (NAI). He joined the Division of Neuroscience and Behavior in July 2020. He serves as a member of the trans-NIH working group for the common fund program Illuminating the Druggable Genome (IDG).
Kiran Vemuri, Ph.D. - Program Officer
(301) 435-4446
Dr. Vemuri has a background in organic chemistry and translational science and manages a diverse portfolio that emphasizes the chemistry and biology of addiction and overdose. He also serves as the NIDA representative for the CounterACT Program, a component under the NIH-wide Chemical Countermeasures Research Program and is a member of the Trans-NIH Common Fund Glycoscience Program and Cannabis Science Interest Group. His research interests include multi-step synthesis, route selection and optimization, in vitro and in vivo pharmacology, and the pre-clinical assessment of small-molecules and biologics. Prior to joining NIDA in 2020 as a program officer, he spent sixteen years as an academic researcher while focusing and publishing on the endocannabinoid system. Notably, Dr. Vemuri's research on pseudo-irreversible ligands led to determining the crystal structures of both the human CB1 and CB2 cannabinoid receptors.
Paul S. Hillery, Ph.D. - Project Officer
(301) 435-1306
Supports research in organic & medicinal chemistry, structural biology.
Paul Hillery has a background in organic and medicinal chemistry, based on NIH intramural research and experience in reviewing drug manufacturing and controls in investigational and new drug applications for the Food and Drug Administration. He currently serves as a project officer for assigned NIDA grants pertaining to opioid, cannabinoid, and nicotinic research topics, involving various GPCRs, channels, and transporters, and the related mechanism of action of small molecules, peptides, and proteins involved in substance use disorders.