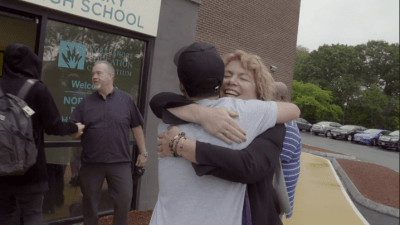 Did you know that there are some high schools actually designed for students who are recovering from substance use disorders?
One of them, Northshore Recovery High School in Massachusetts, was recently featured in the MTV reality docuseries, "16 and Recovering." 
The series shows the real-life story of Northshore and several of its students. NIDA's Dr. Wilson Compton recently had a virtual discussion with the school's co-founder and principal, Michelle Lipinski. The discussion was sponsored by the Addiction Policy Forum. Check out some of their conversation below.
In this video, Ms. Lipinski explains why she started Northshore Recovery High School:
Here, Dr. Compton describes how the school's philosophy is backed up by science:
Ms. Lipinski explains how the school staff uses their knowledge that addiction is a disease (she mentions a "co-occurring disorder," which is when a person has a problem with drugs and with mental health at the same time, or one after the other):
She describes how schools and communities need to work together to help young people who have problems with drugs:
If you or somebody you know needs help for a mental health problem, or for a problem with drugs, there are places that can help. The helplines below are free and confidential; you won't have to give your full name or your contact information.
Substance Abuse and Mental Health Services Administration's Disaster Distress Helpline: Call 1-800-985-5990 or text "talk with us" to 66746.
988 Suicide & Crisis Lifeline: 988. This isn't only for people thinking about suicide. They'll talk with you about all sorts of problems.
Crisis Text Line: Text "connect" to 741741.