Image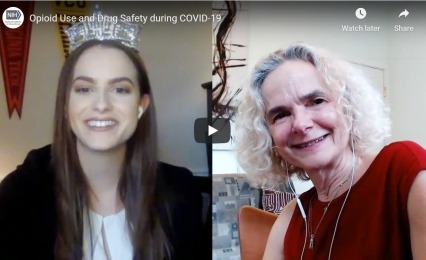 Image by NIDA.
Did you know that Miss America 2020 is a scientist? Camille Schrier earned her bachelor's degree in biochemistry and systems biology and is studying for a Doctor of Pharmacy degree. (Her entry in the Miss America talent competition was a very cool chemistry demonstration.) 

Ms. Schrier has said her goal as Miss America is to help educate the country about the importance of using medications safely. She recently sat down for a virtual conversation with NIDA's Director, Dr. Nora Volkow, about prescription pain medications (opioids). They discussed why people use opioids, how misusing them can lead to serious health problems, and how to safely use opioids. Below, check out a few video clips from their conversation!
In this clip, Dr. Volkow describes how and when prescription opioids are intended to be used:
Here, Dr. Volkow talks about some myths about addiction:
She discusses some of the steps that people who become dependent on, or addicted to, opioids might take to begin their journey of recovery:
If your doctor prescribes an opioid, how can you be sure to use it safely? Dr. Volkow shares some guidance:
Here, she describes how the COVID-19 pandemic is affecting people who have problems with drugs:
Ms. Schrier talks about representing science as Miss America (and shows off her crown):
Watch the full discussion, and learn more about prescription opioids.