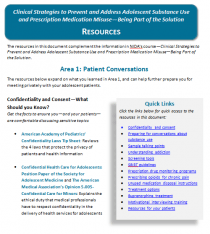 Getting Started
This course no longer offers continuing education credit. However, you can still view the course content by clicking on the Start the Course button below.
Please see below for more information about the course.
 
Course Overview

Target Audience

This activity has been designed to meet the educational needs of clinicians including, physicians, physician assistants, nurse practitioners, nurses, and dentists/oral maxillofacial surgeons, involved in the care of adolescent patients.

Educational Objectives

After completing this activity, the participant should be better able to:

Part 1

Describe the prevalence of substance use and prescription drug misuse among adolescents
Explain why adolescents are at high risk of developing a substance use disorder and how clinicians can help prevent it
Demonstrate strategies to build trust with adolescent patients and ensure confidentiality when addressing substance use and prescription drug misuse
Summarize ways to identify substance use and prescription drug misuse in adolescent patients, including determining their level of risk

Part 2

Discuss strategies to address substance use and prescription drug misuse in adolescent patients based on their level of use
Summarize when and how to follow up with adolescent patients who use substances or misuse prescription drugs

Education Coalition

This activity was developed by an education Coalition of experts and medical professional organization representatives. The Coalition comprises the following organizations and experts:

Type of Reviewer:
Organization/ Expert Consultant

Reviewer Name

California Academy of Family Physicians (CAFP)

Cynthia Kear, Senior Vice President

American Society of Addiction Medicine (ASAM)

Jennifer Butchart, Education Coordinator  
Penny Mills, Executive Vice President / CEO     
Arlene Deverman, VP Professional Development

American Osteopathic Association (AOA)

Stephanie Townsell, Director, Public Health

Marla Kushner, DO

American Association of Nurse Practitioners (AANP)

Anne Norman, DNP, APRN, FNP-C, FAANP, Vice President of Education and Accreditation

American Academy of Pediatrics (AAP)

Renee Jarrett, Manager, Mental Health and Foster Care Initiatives
Div of Developmental Pediatrics and Preventive Services

American Academy of Physician Assistants (AAPA)

Daniel Pace, Vice President, Education
Marie-Michele Leger, MPH, PA-C, Director, Clinical Education
Sara Evans, PMP, Project Manager, Quality Improvement Initiatives

American Association of Oral and Maxillofacial Surgeons (AAOMS)

Vincent DiFabio, DDS

Consultant

Samantha Mattiucci, PharmD, Director of Medical Education

Consultant

Jan Schultz, BSN, MSN, RN, CCMEP, Director of Education Outcomes and Accreditation Services

Consultant

Dan Alford, MD, Associate Professor of Medicine, Assistant Dean and Program Director of the Addiction Medicine Residency program at Boston University School of Medicine

Consultant

Sharon Levy, Director, Adolescent Substance Abuse Program (ASAP)Assistant Professor in Pediatrics,  Boston Children's Hospital

Consultant

Jeff Baxter, MD, Assistant Professor
Department of Family Medicine and Community Health, University of Massachusetts Medical School

Consultant

Marc Fishman, MD

Consultant

Carol Havens, MD

Media

Internet activity

Disclosure of Unlabeled Use

This educational activity may contain discussion of published and/or investigational uses of agents that are not indicated by the FDA. The planners of this activity do not recommend the use of any agent outside of the labeled indications. 

The opinions expressed in the educational activity are those of the faculty and do not necessarily represent the views of the planners.  Please refer to the official prescribing information for each product for discussion of approved indications, contraindications, and warnings.

Disclaimer

Participants have an implied responsibility to use the newly acquired information to enhance patient outcomes and their own professional development. The information presented in this activity is not meant to serve as a guideline for patient management. Any procedures, medications, or other courses of diagnosis or treatment discussed or suggested in this activity should not be used by clinicians without evaluation of their patient's conditions and possible contraindications and/or dangers in use, review of any applicable manufacturer's product information, and comparison with recommendations of other authorities.